'We will work as a family', says Siddaramaiah
Bengaluru, May 18 : Chief Minister designate of Karnataka Siddaramaiah said Thursday that they will remain united to protect the interests of the people.
"Our hands will remain united to protect the interests of Kannada people… and we will work as a family," said Siddaramaiah.The picture shows all three of them smiling and raising their hands together.
He shared a picture of himself with Congress President Mallikarjun Kharge and Deputy Chief Minister designate D.K. Shivakumar.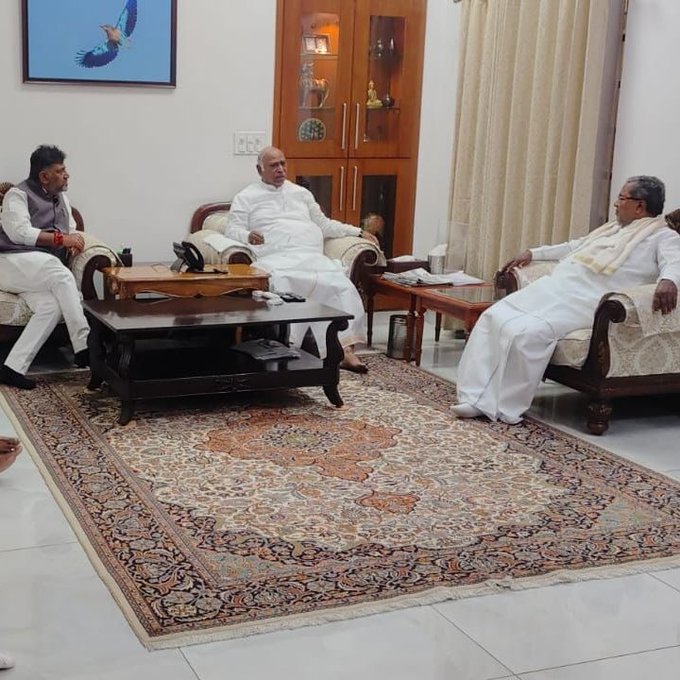 Siddaramaiah stated that the Congress will work like a one family to fulfill all guarantees assured by the party.
"The government will also ensure pro-people, transparent and corruption free administration," Sidddaramaiah stated.
Meanwhile, former Deputy CM and senior Congress leader Dr. G. Parameshwara met Governor Thaawarchand Gehlot at the Raj Bhavan on Thursday and handed him over the letter requesting him to fix the swearing-in ceremony of the new Congress government on May 20. He also handed over the official letter by the KPCC to the Governor in this regard.
Talking to reporters earlier in the day and before the announcement on CM post, Parameshwara said that he should be given the post of Deputy CM as he had held that position earlier also. However, the AICC has clarified that there will be only one post of Deputy CM and that has been given to D.K. Shivakumar.