Shaktisinh Gohil takes over as the President of Gujarat Congress
BILKULONLINE
Ahmedabad, June 18: Thousands of people including women and youngsters gathered at the Ashram where Shaktisinh Gohil sought blessings of Mahatma Gandhi. From the Ashram,  Gohil walked to the Rajiv Gandhi Bhavan in Paldi.
Thousands of people joined him in the padyatra. After reaching the Gujarat Pradesh Congress Office, he thanked the people for their participation in the padyatra and emphasised that as the  Gujarat Congress president his aim will be to raise the issues of all Gujaratis  without any caste and  class discrimination.  He appealed  Gujaratis across the State to support Congress in its mission of making the State a true model of inclusive growth. People from all 33 districts in Gujarat participated in the padyatra and remained present  to welcome the appointment of Shaktisinh Gohil as the new Gujarat Congress Party President.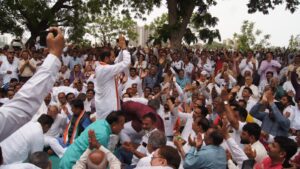 A few people, names we can count in a breath, in Gujarat, are getting richer while majority of Gujaratis continue to languish due to problems arising because of growing inflation, shrinking MSME sector, lack of opportunities, intense corruption and unemployment, senior Congress leader Shaktisinh Gohil said here on Sunday.
Taking over as the President of Gujarat Congress,  Gohil said fixed pay, unemployment, farmer's issues, gauchar and poor MSP to farmers continue to plague the State. Series of paper leaks, lack of balanced growth and deteriorating law and order situation has dented the asmita and identity of Gujarat, he added. Gujarat has a glorious history of inclusive growth and equal opportunities he said, stressing that the Congress will voice out issues that majority of Gujaratis face. We will not reduce ourselves to be the mouth pieces of the few rich and powerful of the State, he emphasized. We need your support, co-operation and blessings to restore Gujarat's asmita and identity as the most progressive State of India, he told an impressive crowd that assembled at the Sabarmati Ashram. All former PCC President, Former CLP Leader, State Office Bearer, President of Different Forntal-Cell-Depatment, Congress Workers, and local people also joined Sabamati Asharam to Rajiv Gandhi Bhavan Padyatra