Bijal Brahmbhatt, Executive Director of Mahila Housing Sewa Trust selected as one of the Finalist for prestigious SEOY Award -2023
BILKULONLINE
By Rafat Quadri
Ahmedabad, Aug 20: Schwab Foundation for Social Entrepreneurship in partnership with the Jubilant Bhartia Foundation has recently announced the finalists for the most awaited 14th edition of the 'Social Entrepreneur of the Year' India Award 2023. The prestigious award recognises and celebrates the outstanding contributions of social innovators in India who have transformed lives and communities through their exceptional socio-business initiatives.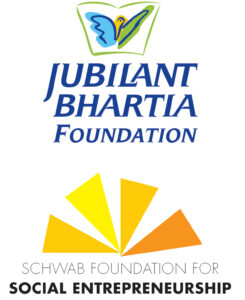 After the completion of two rounds of written assessment and internally conducted voice interviews, four finalists of repute have been announced by the Foundations.
Now in its final round of panel interviews the Winner of the award will be announced and conferred the same on 25th August at a grand celebration in New Delhi in presence of who is who of world economists, decision makers are other professionals.
Who are the four finalists of SEOY Award 2023: ('Social Entrepreneur of the Year' India Award 2023)
Aparna Hegde, ARMMAN, Mumbai Sector: Health  www.armman.org 
Bijal Brahmbhatt, Mahila Housing Sewa Trust, Ahmedabad  Sector

: Women-led development, Inclusive and Climate Resilient Urban Development

       www.mahilahousingtrust.org
Dhimant Parekh &  Anuradha Parekh, The Better India, Bengaluru
        Sector: Media  www.thebetterindia.com
Shuchin Bajaj, Ujala Cygnus Healthcare, New Delhi
             Sector: Health  www.ujalacygnus.com   
          Why SEOY Award 2023 is significant for Gujarat?
SEOY Award in itself is a prestigious honour for an individual, his/her organisation besides the recognition he/she brings to the community and the state. For Gujarat, Bijal Brahmbhatt's name as one of the finalist of the SEOY Award of 2023 has brought a new ray of hope and happiness for the entire state and all the people who are connected with social work as NGOs or beneficiaries.
Bijal Brahmbhatt
Bijal Brahmbhatt has been the Game changer for lakhs of women's lives and lifestyles translating into their family members' as well. Besides undertaking huge work of convincing and changing the mind sets of the source (government and agencies) and beneficiaries (the urban poor), Bijal has been instrumental in showing a mirror to the society about the privileges that are scarce and unfair for the fair sex and how important it is for the women to stand on their feet, get what they deserve, say what they should and participate in all important matters of life and society. Bijal says "Poor women of the slum areas-despite working tirelessly both the household chores and work to earn money, hardly get notices and their voice heard in important matters. Shockingly, only one per cent of the women had their names on the property ownership documents. However, thanks to the inclusion of the new clause in the policy, now government has enabled their names to appear before men in the property they get to live under various government's and other agencies financial assistance."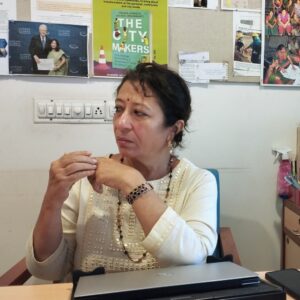 Bijal Brahmbhatt, 44 is currently Executive Director of Mahila Housing SEWA Trust (MHT). She is a civil engineer by training and a recognised expert in habitat improvement, community development, and housing finance. She oversees MHT's operations at the national level. She has proven experience in conceptualising, planning, managing, and providing support for slum upgradation programmes across India. She also has expertise in land tenure and renewable energy issues, and has authored papers on habitat, housing finance, community development, and land tenure with World Bank, CEPT University, WIEGO, and so on.
Since its inception, the MHT has helped 39 lakh urban poor to get housing facility under government schemes, 17 lakhs being within last five years alone.
More importantly, merely handing over houses (flats in case of Gujarat) is not enough explains Bijal "We ensure that the names include woman's name in the joint ownership of the house, there is proper living comfort available to them like provision of all basic needs such as drinking water, light, gutter, and toilet. We train and explain these people specially the women to take leadership in the areas of communicating and convincing to other women and people in their communities regarding climate change challenges and how to take action at their level. They are also trained to be able to communicate with the government and other agency authorities about their issues and needs. In case of tin sheets as their slum roofs, they suffer a lot due to heat in summers and their work gets hampered at least for two hours or so. We are working on it and other such issues related to climate change, hand in hand with governments and these people. Idea is to make urban poor's lives and lifestyles better and worthy."
Challenges are many but Bijal and her team has been successful to a great extent overcoming them and have created a strong line of women with self- esteem, their head held high, confident and aware. They are progressing themselves and making their family members march on the progress path.
Discussing about the ongoing and near future projects, Bijal mentioned that they are about to start a town planning of Patan (in Gujarat)  areas of urban poor in housing and living conditions improvement, heat due to climate change challenges for housing to poor in Jodhpur. At Amalner (Maharshtra) there is acute water shortage. We have been able to rejuvenate 17 wells and interestingly, the tools and apps that monitor them are being managed by the women of the area who have been trained by us.
"Focussing along with housing the empowerment of Women, we insisted women from urban poor stature to join government initiatives and avail benefits at the time of Covid-19 when massive successful vaccination drives and other related follow ups were assisted by them with the government agencies. We have been working as a link or bridge between these masses and government so that the rightful get the right aid at the right time" elaborates Bijal.
MHT has also been directly providing housing loans to urban poor. Since most of them have informal income and don't have documents in their names it is very difficult to avail bank loan for them so MHT comes to their rescue. They directly provide loans at 11 to 15 per cent interest. But the default rate is almost negligible. MHT has given away loans to a tune of Rs 25 crores so far.
MHT is presently engaged for housing for urban poor in 200 slums affecting some two and half lakh people of Gujarat. Under the government's "housing for all mission" 25,000 houses (flats) in Gujarat were given away to the deserving during last five years with the help of MHT. Its team members reach out to the slum dwellers, convince them of their better living prospects, and build trust worthy relationship with them so that they hand over their place and government authorities build new flats there for them and they are then allotted to the rightful members under MHT's mediation and supervision. MHT is a committee member of the government mission for housing. They have also signed a Memorandum of Understanding with the Ahmedabad Municipal Corporation (AMC) to further the rehabilitation work of urban poor and lift their life standards holistically.
Today, MHT works in cities as well as rural areas across 9 states in India, to reach services to the poor and make their voices heard in city level planning and governance processes. MHT's work has been recognized nationally and internationally and has received numerous awards such as the Ashden Award for Cooling in Informal Settlements, United Nations Global Climate Action Award for Women's Action Towards Climate Resilience for Urban Poor in South Asia, and United Nations Sasakawa Award for Disaster Risk Reduction, among many others.
Bijal Brahmbhatt holds a degree in Civil Engineering and has a certificate in Urban Planning from Netherland. During her illustrious career affecting betterment of masses, she has been instrumental in bringing constructive advancements for women of urban-built landscapes in poor communities by improving their housing, living, and working environments.
Aniket Doegar from Haqdarshak Empowerment Solutions had won the Social Entrepreneur of the Year (SEOY) Award in 2022.
As part of the award, the winner of the SEOY India Award 2023 will join the social innovators community of the Schwab Foundation for Social Entrepreneurship, a leading global platform that has accelerated outstanding models of social innovation for over 25 years. The Winner and Finalists of SEOY India Award 2023 will also have the opportunity to apply for the Hindustan Times Fellowship for the Stanford Seed Transformation program.
BILKULONLINE extends Best Wishes to Bijal Brahmbhatt and looks forwards to see yet another cap in her crown as the director of MHT.
(Rafat Quadri can be contacted at editorbilkul@gmail.com)