Patan Junior Girls Win GSFA's ZydusLife Inter-district Football Tournament
BILKULONLINE
Godhara, Aug23 : In an exciting but one-sided final encounter between U-17 Girls of Patan and Kutch districts, the team of Patan district defeated Kutch 5-0. The GSFA's Zyduslife Inter-district Football Tournament-2023 concluded today at Godhara Sports Complex. Patan girls from the start of the final had overpowered the opponents in Kutch, scoring 3 goals in the first half and another two in the second half. Girls of Kutch district tried to give a fight but could not hit the goalpost.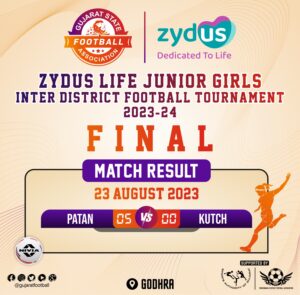 Earlier in the tournament, Patan Girls scored 4-0 against Bharuch in the first semi-final on 19th August. The second final was played between Kutch and Valsad on 22nd August where Kutch emerged victorious 2-0 and reached to final.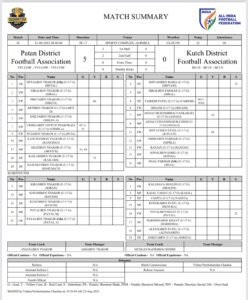 GSFA is constantly endeavoring to take Gujarat's football to the next level. This is for the first time Zyduslife came forward in support of the GSFA and made a beginning with the Junior Girls Inter-district Tournament. The Godhara District Football Association hosted the tournament this year.