Ahmedabadi Fashion Lovers cherish the rich experience of shopping at  Hi Life Exhibition
Hi Life Exhibition is a signature fashion, lifestyle & luxury exhibition company of India
BILKULONLINE
By Rafat Quadri
Ahmedabad fashion lovers find one stop to buy their choicest items at Hi Life Exhibition during August 24-25. Patrick Libera, Director Hi Life who manages core operations of the company closely with the MD and CEO Aby Dominic was in Ahmedabad to present this unique and wanting exhibition at the onset of festive season.
Dr Zankhana Maheshwari, Eye therapist and Homeopath inaugurated the Exhibition. She said " I just love the unique collection brought for us from the best of artists and art under one roof by Hi Life. I appreciate the quality and class associated with the selection of clothes, jewelry and all accessories that have been chosen to showcase by hi Life out here at TGB, Ahmedabad."
Famous fempreneurs of Ahmedabad and professionals were witnessed enjoying the exhilarating immersive shopping experience at Hi Life.
Hi Life is the brainchild of Aby Dominic, a highly regarded industry veteran associated with more than 1500 exhibitions across India and overseas in a career spanning over two decades.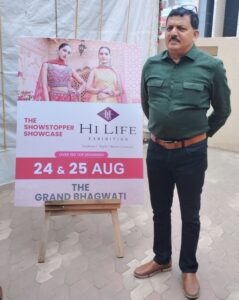 Throwing light on the vision of Hi Life Patrick said "Our vision is to be the world's premier exhibitions platform for Indian luxury items and designer apparels and to provide the best and most delightful shopping experience possible. We aim at delivering the right and most relevant consumers, content and world-leading expertise and resources in a platform with the power to transform the business of our clients".
Innovation with value is the mission of Hi Life which enhances the artists in designing best and unique collection for the buyers with taste across India.
Hi Life Exhibitions is a signature fashion, lifestyle & luxury exhibitions company in India. With an ever-expanding pan India presence, it is the leading organizer of world class exhibitions for the discerning few who settle for nothing but the finest.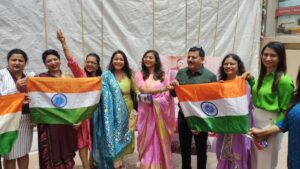 Hi Life brings splendor, grandeur and beauty under one roof in the finest hotels in the metros & top Tier 1 and 2 cities across India. It provides the visitor an opportunity to view experience and select from the very best in Designer Apparels, Jewellery, Fashion Accessories, Home Decor, Furnishing Concepts, Gifting Ideas, Artefacts & Avant Garde Art. Hi-Life was launched in Mumbai in 2013. It manages the marquee brand Design Library to deliver the ultimate in luxury retail experiences fit for royalty.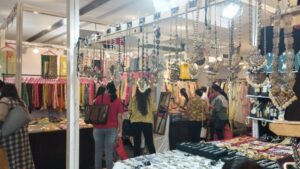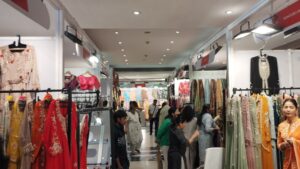 Best of attire, unique designs, exquisite collection of fem clothes, jewelry and other accessory items selected carefully and with taste by Hi Life was the result of a successful exhibition and shopping that was witnessed at TGB, Ahmedabad during August 24-25.
Hi Life will next display its exhibition at Novotel, Hyderabad during August 26-28.
(Rafat Quadri can be contacted at editorbilkul@gmail.com)