Dream. Design. Delivered. Ahmedabad Airport in a new avatar !
BILKULONLINE
Ahmedabad, Aug 24:
A Gateway built by the people for the people. 
Sardar Vallabhbhai Patel International Airport, to increase facilities, commissions all new arrival hall with larger immigration area in Terminal 2 for international passengers. This all-new international arrival block features a host of improvements designed to ease passenger traffic and enhance overall capacity. 
A testament to the organisation's resilience, tenacity and relentless pursuit of overcoming obstacles, the revamped immigration area of Terminal 2 is being built to be of world-class infrastructure, with unparalleled comparison both in India and abroad. Given the central role airports will play in the future, the airport fosters an economic ecosystem that places the travellers at the heart of everything that is being planned. SVPIA – the airport of the people, represents the strong bond between the airport and the vibrant community it serves. As a hub of connection and travel, the airport stands as a testament to the indomitable spirit. 
Visioned to be more than just a place of transit; it is a reflection of our community's pride, identity, and values. SVPIA represents the gateway to new opportunities, whether it be for business, leisure, and serves as a catalyst for economic development, creating jobs and fostering local businesses. An inseparable bond that propels forward, opening up a world of possibilities for all.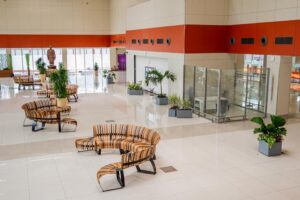 Capacity Enhancement
The new arrival block spanning 2550 sqm area to the existing terminal space, boasts 24 state-of-the-art immigration counters reflecting art, cityscape, and culture of the city. 
This expansion aims to ensure a smoother and more efficient arrival experience for the millions of passengers passing through the airport annually. Rapidly increasing passengers preferring to travel through Ahmedabad Airport, the expansion is also kept on fast track. Ahmedabad Airport served over 10 million passengers last financial year and has already served more than 4 million passengers in just 4.5 months. The airport is expected to see growth of over 25% in passenger numbers by the end of the current year.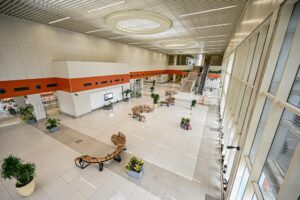 To be able to cater to growing passenger numbers, several infrastructural developments are going on at SVPI airport. Earlier immigration areas had 16 immigration counters; now the new area will have 24 counters with the latest technology and enhanced facilities to ensure a seamless passenger experience. 
Design Philosophy 
Ahmedabad being the first world heritage city, the all-new arrival hall is planned to indulge passengers in the city's rich heritage. 
The revamped terminal arrival area is designed meticulously with the fitting theme of "Amaru Amdavad" (My Amdavad), paying homage to Gujarat's rich heritage, distinctive rituals, and vibrant culture of community celebration. As international passengers make their way through the terminal, they will be treated to an artistic glimpse of Ahmedabad's dynamic ambience as they pass beneath an array of shimmering torans, symbols of an exuberant and festive welcome in the near future. 
With ongoing art projects, at the heart of the terminal's transformation there will be the "Aangan Van" planters, human-scale installations that showcase the region's rich and ancient culture through Dholavira encryption and art & craft will be added soon. These planters will serve as serene relaxation spaces, creating a sky-lit indoor oasis where travellers can find the rest, repose, and energy they need after a long flight. 
Efficiency and Traveller Convenience
Recognizing the importance of a seamless baggage reclaim experience, the Baggage Reclaim Hall now features six impressive spacious baggage belts, catering to the increased passenger traffic. Moreover, the improved green and red channel customs exits will ensure passengers have a swift exit from the terminal. 
One Vision One Dream
The all-new arrival area in the international terminal of Ahmedabad Airport has been envisioned with the common dream of the citizens of Gujarat and India. These enhancements at Terminal 2 exemplify Sardar Vallabhbhai Patel International Airport's unwavering commitment to providing an elevated passenger experience. The airport aims to offer all travelers a remarkable and seamless journey by combining aesthetic elegance, cultural highlights, and efficient infrastructure.