Nine killed as speeding Jaguar ploughs into crowd in Ahmedabad
BILKULONLINE
Ahmedabad, July 20:  Nine people were killed and over 15 injured after a speeding luxury car ploughed into a crowd on the ISKCON bridge  in Ahmedabad on Thursday, police said.
The accident occurred around 1 a.m. on the  bridge located on the Sarkhej-Gandhinagar highway when the Jaguar, reported to be running at over 100 kmph, ploughed into a crowd gathered there after an accident between two vehicles, a police official said.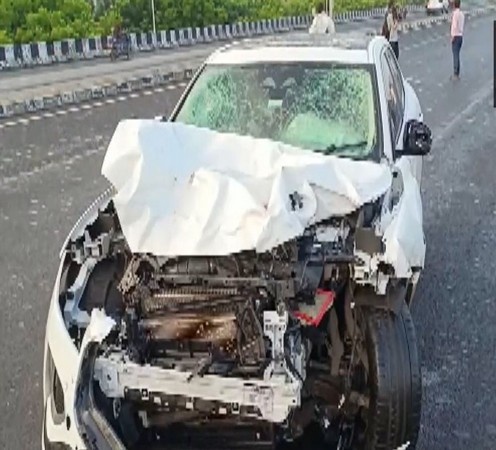 The overspeeding vehicle coming from Rajpath Club hit the unsuspecting crowd. The force of the impact was so tremendous that it sent people flying through the air, some landing approximately 25 to 30 feet away.
Chaos prevailed on the bridge as rescue teams and local police descended upon the scene. The injured victims were rushed to the Civil Hospital.
Among the deceased are a police constable and a Home Guard personnel, who were on duty at the time of the accident.
Kripa Patel, a Medical Officer at Sola Civil Hospital, said that efforts are currently underway to provide medical treatment and support to the remaining injured individuals in the hospital.
Expressing his condolences, Chief Minister Bhupendra Patel tweeted, "The accident that happened last night on ISKCON Bridge in Ahmedabad is very sad. I express my heartfelt condolences to the families of those who lost their lives in the accident. Praying to God for the speedy recovery of the injured. The state government has provided Rs. 4 lakh to the families of the deceased and Rs. 50,000 to the injured as assistance."
Home Minister Harsh Sanghavi said, "Deeply anguished and shattered to learn about the tragic road accident in Ahmedabad last night. My prayers are with the families who have lost their loved ones in the accident. The police and government are taking all the necessary steps for the betterment of those injured. Two policemen have also lost their lives in the same incident, and my prayers and thoughts are with them and their families."