World eager to invest in India's MedTech sector: Dr Mansukh Mandaviya
Gujarat is committed to provide support to MedTech & pharma industry;
urges investment by industry: Bhupendrabhai Patel
BILKULONLINE
By Rafat Quadri
GANDHINAGAR, 18 Aug : Dr Mansukh Mandaviya, Minister for Health & Family Welfare and Chemicals & Fertilizers, Govt of India inaugurated India's 1st ever MedTech Expo organized by the Department of Pharmaceuticals, Government of India jointly with FICCI, which is being held from 17th to 19th August at Helipad Exhibition Centre, Gandhinagar, Gujarat in presence of  Bhupendrabhai Rajnikant Patel, Chief Minister of Gujarat. The event was attended by  Rushikesh Patel, Health Minister Government of Gujarat; S. Aparna, Secretary, Department of Pharmaceuticals, Government of India; Raj Kumar Chief Secretary, Government of Gujarat;  Tushar Sharma, Chair FICCI Medical Devices Committee; CEOs of Medtech industry; other luminaries fromtrade and industry; senior officials from Government of India and State Governments; exhibitors from medical device industry and buyers from India as well as abroad.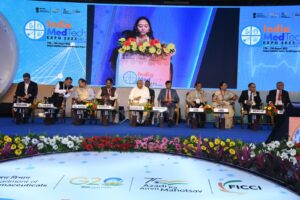 Addressing the inaugural session Dr Mandaviya said that the event is first of its kind, being organized as a co-branded event of G-20 Health Ministers' Meet being held in Gandhinagar. Global MedTech industry is eager to invest in India due to transparent policies and holistic approach of the government, under the dynamic leadership of Hon'ble Prime Minister Shri Narendra Modi. The recent unveiling of National Medical Devices Policy, PLI schemes and development of Medical Devices Parks are some of the examples of the policy initiatives. As a result of all these efforts, global investors are getting attracted to India's MedTech sector and many MNCs are willing to invest in the country. The Expo show cases best of current, as well as futuristic technologies in the medical devices sector. It brings together industry – foreign as well as domestic manufacturers including MSMEs, state governments, research and development institutions, startups, regulators and buyers. The Expo will go a long way in facilitating exchange of ideas and information, building collaborations and partnerships, promoting trade and investment along with research and innovation in the sector.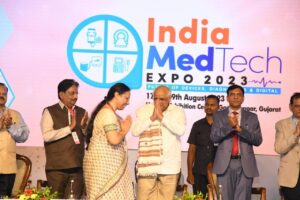 hupendrabhai Rajnikant Patel, Hon'ble Chief Minister of Gujarat said that, "The State is the hub of Pharma and MedTech industry in the country. It is because of the investor friendly policies of the state government that Gujarat accounts for around 33 per cent of India's pharma production. We endeavour to provide all the impetus to the industry in the future as well and we are very hopeful of attracting more investors from around the world."
 Dr V K Paul, Member NITI Aayog said, "The advancement in technology and innovation has changed the landscape and offerings of the medical devices sector in many ways. India's MedTech sector is now at an inflexion point to move in the direction of exponential growth both in terms of quality and quantity, as well as its reach globally, which will realize the goal of Atmanirbhar Bharat."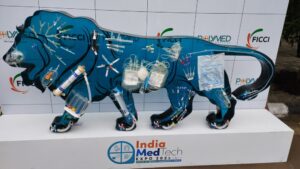 Highlighting the measures taken by the government, S Aparna, Secretary, Department of Pharmaceuticals, said, "The government has taken a number of policy measures along with PLI initiatives to support the MedTech sector and is open to taking all necessary steps to support universal healthcare not only for Indians but also for the world."   
 Suresh Vazrani, CMD, Transasia Bio-Medicals Limited spoke on the potential of India's MedTech sector, and  Tushar Sharma, Chair, FICCI Medical Device Committee and Managing Director & GM, Abbott Vascular delivered the vote of thanks. 
On the occasion, a compendium on MedTech Expo, booklets on Future & R&D Pavilions and a coffee table book on India Pharmaceuticals sector were also released.
The 'INDIA MEDTECH EXPO' hasthe central theme 'India: The Next MedTech Global Hub' Future of Devices, Diagnostics and Digital'.Alongwith buyer-seller meetings, panel discussions and workshop on different themes, there is an  exhibition of Medical Devices withexclusive pavilions, including Future Pavilion, R&D Pavilion, Start-up Pavilion, State Pavilion, Regulators' Pavilion and Make in India Showcase.