The Body Shop unveils its first Activist Workshop store in Ahmedabad
The Body Shop places sustainability at the core of its brand identity
BILKULONLINE
Ahmedabad, July 28:  The Body Shop, a Britain-born international ethical beauty brand, is expanding its presence in Ahmedabad with the launch of its second store which also marks the city's first Activist Workshop store.
The new Activist Workshop store exemplifies The Body Shop's enduring commitment to social activism, offering a unique shopping experience that goes beyond beauty products. With its innovative concept, the store invites customers to participate in a variety of interactive workshops, empowering them to become change-makers in their own right. Visitors can engage in skill-sharing sessions, learn about sustainable sourcing practices, and discover the positive impact their purchases can have on the environment and local communities. Here are the details of what makes the store unique.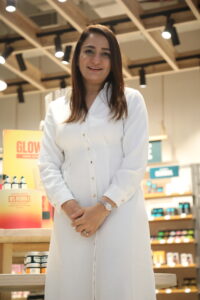 The RRR approach
The Body Shop places sustainability at the core of its brand identity, striving to recycle and repurpose plastic to minimize waste generation. Embracing the RRR (Return, Recycle, Repeat) concept, the new Activist Workshop store enables customers to easily recycle packaging from personal care products like tubs, tubes, bottles, and pots. The brand's local partners repurpose these containers, ensuring minimal waste and a positive environmental impact – a simple yet impactful way for individuals to contribute.
Sustainable store fixtures
Remaining true to its ethical and eco-friendly ethos, The Body Shop adorns the Activist Workshop store with sustainable fixtures crafted from reclaimed wood and recycled plastics. Additionally, the store features worktop surfaces made from 100% recycled materials that would otherwise end up in landfills or oceans.
The activism hub
At the new Ahmedabad store, The Body Shop has established an activism hub, inviting customers to delve into the brand's activism and participate in campaigns for social causes like gender equality, sustainability, and animal testing bans. Experts are on hand to guide customers and encourage their involvement in building a cleaner and fairer world.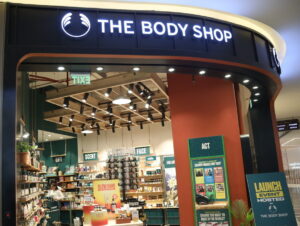 The bestseller bay
Among The Body Shop's numerous popular products are bestsellers known for their head-to-toe-care and formulated with potent ingredients sourced through the brand's Community Fair Trade program, such as Tea Tree, Aloe Vera, Hemp, British Rose, Edelweiss, and more. The qualified staff offers on-hand demonstrations, helping customers better understand their skin and hair needs.
The gifting station
The latest store also includes a gifting station, catering to the norm of gift-giving during birthdays, anniversaries, weddings, and festivals. Here, customers can create personalized self-care gifts for their loved ones, adding stickers, ribbons, and recyclable paper to make them special.
To further enhance the shopping experience, The Body Shop's store features knowledgeable teams who offer expert advice, personalized makeovers, and experiential demonstrations.
Harmeet Singh, VP, Marketing, Product & Digital, The Body Shop Asia South said, "We are thrilled to announce our first Activist Workshop store in the heart of Gujarat – Ahmedabad. We remain committed to fostering positive change and are excited to offer an immersive and purpose-driven shopping experience to our customers. Every product you find in our store represents more than just skincare or beauty care; it represents a commitment to cruelty-free practices, sustainable sourcing, and fair trade. With every purchase, you become a changemaker, contributing to the collective effort of creating a more compassionate and sustainable world."
The new Activist Workshop store is now open to the public and is located at 1st Floor, Phoenix Palladium Mall, Ahmedabad.