Invest in a good mattress for a sound and healthy sleep with SmartGRID technology of 'The Sleep Company'
The Sleep Company is India's leading comfort innovation company and
the revolutionary patented SmartGRID mattress creator
BILKULONLINE
By Rafat Quadri
Ahmedabad, July 28: Witnessing a remarkable surge in interest for sleep and seating solutions from consumers in Ahmedabad, The Sleep Company, Asia's first and only provider of patented SmartGRID technology for peaceful sleep, has launched its second store in the city. Their new offline store is a testament to the perceived quality and value of the brand's products, as seen by the soaring demand from the city. Aiming to cater to consumers who prioritize a touch-and-feel experience before making purchases, The Sleep Company's 36th outlet in the country provides them with a seamless and immersive shopping experience. The store's inauguration was honored by the presence of esteemed Dr. Vipul Kuvad, a renowned Orthopaedic Surgeon & Spine Specialist with over 18 years of experience in the field of Orthopaedics.
With Ahmedabad being the commercial hub of development and growth in Gujarat, the region is experiencing robust economic prowess and a rise in disposable income. People are placing an increased emphasis on personal well-being, leading to a visible demand for advanced wellness products. This shift in consumer behavior has prompted the brand to augment its retail presence in Gujarat with their latest 1200 sq. ft. store. An ode to the brand's patented SmartGRID experience, the outlet will house the entire gamut of products, ranging from mattresses and sleep accessories to chairs.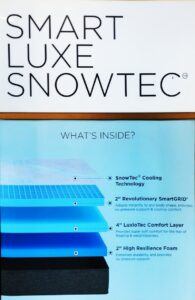 Priyanka Salot, Co-founder of The Sleep Company, commented on the new store launch "We are thrilled to bring The Sleep Company's extraordinary experience to the lively metropolis of Ahmedabad. The overwhelming response we have received from the city, evident through our website and first store, has motivated us to expand our physical presence here. As a brand dedicated to revolutionizing sleep and comfort, our SmartGRID technology has received immense appreciation and recognition nationwide. With the inauguration of this new store, we are resolute in our mission to offer Ahmedabad the utmost comfort-tech solutions through our mattresses, sleep accessories & chairs thus making a positive impact on the sleep quality and overall wellness of each individual."
During the store launch, Dr. Vipul Kuvad, an expert Orthopaedic & Spine Specialist shared "As an expert in spine health, I am well aware of the detrimental impact that poor posture can have on the well-being of our backs. Across the country, a growing number of individuals face lifestyle issues resulting from improper posture during sleep and sitting, leading to discomfort and potential long-term spine problems. The Sleep Company's SmartGRID technology emerges as a revolutionary solution, offering unparalleled comfort and support that can significantly mitigate the negative effects of bad posture. With the launch of their new store in Ahmedabad, I am confident that residents of the city will find tremendous relief and improved spine health through this game-changing offering. I wholeheartedly commend The Sleep Company for their unwavering commitment to enhancing both sleep quality and spine health in the region." 
Well on its path to achieving its vision of opening 100+ stores by March 2024, The Sleep Company has emerged as one of the youngest D2C brands with an unwavering focus on customer satisfaction over the past years. This is largely due to their innovative SmartGRID technology that promises a peaceful and elevated comfort experience. And with India ranking as the second most sleep-deprived country globally, the brand's expansion in Ahmedabad plays a crucial role in addressing this issue and enhancing the overall well-being of its residents.
You can experience The Sleep Company's range of SmartGRID products at their new store, located at Shop No. 04, Ground Floor, 3rd Eye II, C.G. Road Near Panchvati Cross Road, Ellis Bridge, Ahmedabad, Gujarat-380006
(Rafat Quadri can be contacted at editorbilkul@gmail.com)