Youngest TiE chapter Vadodara announces mega event on Oct 20-21 themed 'Opportunities Unlimited'
TiEcon Vadodara will host approximately 30 speakers and dignitaries, including respected figures from the IT, skill development, and entrepreneurship sectors

Union Minister Rajeev Chandrasekhar to launch Tie-Vein

The event will feature networking opportunities, a startup platform, scaling up workshops, mentoring forums, and an expo

TiEcon to award 18 best startups under 9 categories of 3 geographical divisions

Match-Making MoU to shape up between the existing companies and fresh start-ups, making a win-win situation for both

Pitcho-thon to enable platform to 75 companies to seek investors

100+ Start-up entrepreneurs to participate in different activities while 100+ start up professionals will be the attendees

20+ Venture Capitalists from Gujarat to be present to lend the helping hand 
BILKULONLINE
By Rafat Quadri
Ahmedabad, Oct 12: It was during the Covid-19 days when the world was quiet and there was a big lull, Vadodara's few genius businessmen joining heads decided to start the TiE Chapter of Vadodara. Nilesh Shukla was the Founder President of TiE Vadodara which was all online. But with the world coming back to routine TiE Vadodara office bearers meet offline and have planned this mega event to take place in Vadoara on October 20 and 21.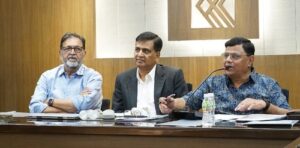 TiE (The Indus – Indian and US Entrepreneurs) (www.tie.org) is a global non-profit organization dedicated to fostering entrepreneurship across industries, providing encouragement to startups and nurturing budding entrepreneurs at all levels with unwavering support. It spans across 14 countries and has over 15,000 members (3000+ Charter members) who contribute to the vibrant entrepreneurial ecosystem in India and beyond. TiE Vadodara is the newest addition to the TiE family, focusing on supporting and promoting entrepreneurship in Vadodara and Gujarat. They aim to provide a platform for startups, scaling-up businesses, and the state-of-the-art ecosystem to connect and grow, facilitating networking, mentorship, skill development, funding, and innovation.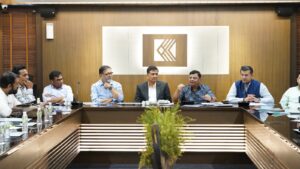 TiEcon is a flagship event designed for startup entrepreneurs and industry supporters. This platform provides a unique opportunity for networking, learning from experiences, fostering businesses, and nurturing the startup ecosystem. The first edition of TiEcon Vadodara is set to take place on October 20th and 21st, 2023, in Vadodara, Gujarat.
The event will host over 500 startup founders, industry leaders, investors, mentors, product developers, technology incubators, and high-ranking government officials. This gathering aims to facilitate networking, share knowledge, and provide the resources necessary for businesses to grow and thrive in Vadodara and beyond.
TiEcon Vadodara will feature a variety of activities, including keynote speeches, panel discussions, masterclasses, mentoring sessions, pitch competitions, startup exhibitions, awards ceremonies, and numerous other events. It will bring together over 50 speakers and panelists, as well as members from various TiE chapters.
The theme for TiEcon Vadodara, "Opportunities Unlimited" signifies its commitment to pushing the boundaries and offering innovative solutions to the current business environment, benefiting both India and Gujarat. The theme aims to provide unconventional solutions that address the challenges faced by businesses today.
Overall, TiEcon Vadodara promises to be a dynamic and transformative event that encourages entrepreneurship, fosters collaboration, and empowers startups and businesses in Vadodara and the larger Gujarat region. It seeks to bring together individuals, entrepreneurs, and stakeholders to share knowledge, explore opportunities, and drive innovation and growth in the entrepreneurial ecosystem.
The inauguration of TiEcon Vadodara is scheduled for October 21, 2023, at the Exposition Center, focusing on IT, skills development, and entrepreneurship. The event will be graced by the Union Minister, Rajeev Chandrasekhar. Some of the main highlights of the event include keynote speeches by founders, prominent industry experts, investors, venture capital leadership teams, product developers, and incubators, attracting over 500 participants. Not only government officials but also Padma Shri awardees like Mohandas Pai and approximately 30 other distinguished speakers will provide insights and share their expertise on various topics.
Furthermore, leaders like Pranav Amin from the Alembic group, Punit Lalbhai from Arvind Group, Nyela Kalsia from Sud-Chemie, Vikram Gupta from IvyCap Ventures will provide valuable insights and guidance on various aspects of entrepreneurship. Cherry on the top, Padmaja Ruparelia from IAN and other speakers will give their insights. Successful startup founders and innovators in the field of technology, such as Shraddha Sharma from YourStory and Sunny Vaghela from Zyber 365 will share their insights and specialized knowledge on technology trends. They will impart valuable knowledge through their experiences, enhancing the understanding of emerging technologies for the audience.
In addition to these, a startup pitch will take place, where approximately 40 startups from across Vadodara, Gujarat, and the entire country will pitch their ideas to a panel of judges. Through an interactive booth setup, attendees can explore and network with these startups and gain knowledge in various domains. TiECon Vadodara will also witness the participation of prominent VCs like FAVCY, who will conduct masterclasses and mentorship sessions for budding entrepreneurs and startup founders in the state and beyond. They will also support the startup ecosystem by providing funding opportunities and mentorship to early-stage startups.
Following these activities, TiECon Vadodara will conclude with an awards ceremony to recognize and honor the best-performing startups, VCs, and successful stories in the startup ecosystem. It will bring together visionaries and stakeholders to collaborate and help shape the future of entrepreneurship in Vadodara, Gujarat, and the entire country.
Additionally, TiECon Vadodara has received immense support from MieTY and the government of Gujarat start-up ecosystem, i-Hub. It aims to foster entrepreneurship and industry collaboration and provides a platform for networking and knowledge sharing.
TiE Vadodara office bearers are Nilesh Shukla, Founder President, Maulik Bhansali, Sr Vice President, Samir Parikh, Vice President, Darshan Chandan, Hon Secretary, Rajat Singha Treasurer and others.
(Rafat Quadri can be contacted at editorbilkul@gmail.com)