'Hunar Mahotsav' at Ahmedabad Riverfront is a perfect pre-festival venue to shop and dine
Mayor inaugurates Hunar Mahotsav to promote, protect and provide a sustainable platform to the artisans and craftsmen of India who are showcasing best of the products 
With the theme 'Local for Local', Huna Mahotsav offers over 200 stalls on the beautiful riverfront of Ahmedabad so come and witness the magic yourself: Deepak Shukla, Director of HM
BILKULONLINE
Ahmedabad, Nov 3: Ahmedabad is as we all know drenched into the festive mood with hardly few days to celeberate the festival of light 'Diwali'.
In this perfect ambience, an art, craft and cuisines' unique trio under the theme of 'local for local' was inaugurated  today evening as 'Hunar Mahautsav' (HM). It was inaugurated by Ahmedabad's Mayor  Pratibha Jain, in presence of  Girish Singhal, Asst. Director DC Handicraft Ahmedabad & Hetal Amin President of KSMVS, Chairperson of ACCWF.
This unique exhibition brings together the finest handcrafted treasures and mouth-watering culinary creations, promising an unforgettable experience for all attendees. A showcase of exquisite handicrafts from talented artisans around the region. From intricately woven textiles to meticulously carved sculptures, each piece tells a story of dedication and creativity.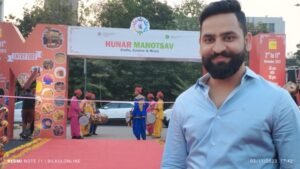 Deepak Shukla, Director of HM explained that "Over 300 artisans and crafts persons from various states of India are taking part in this 'Hunar Mahotsav' which has been opened for public from today till Nov 11 between 10 AM to 10 PM".
"Hunar Mahotsav – A Festival of Crafts and Cuisine is going on at Vallabh Sadan Open Plot, Sabarmati Riverfront, Ahmedabad to Promote, Protect and Provide a sustainable Platform for the Artisans/ Craftspersons" added Shukla.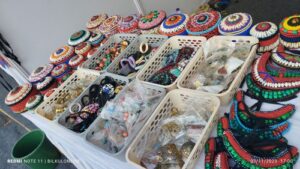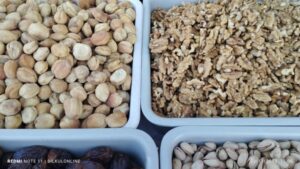 The Hunar Mahotsav exhibition is supported by Ahmedabad Chamber of Commerce Welfare Foundation and Kalyani Sahasik Mahila Vikas Sangh.
Hunar Mahotsav is a prestigious gathering that brings together finest craftsperson and culinary experts of the country to showcase their talent and exemplary work which is expected to be attended by over 3000-4000 general public on daily basis. Our aim is to provide a platform for handicrafts professionals, enthusiasts, and stakeholders to exchange ideas, showcase innovations, and discuss the latest trends and advancements. The Hunar Mahotsav events are also proposed at Delhi, Surat, Nagpur, Lucknow and Chandigarh during the current financial year.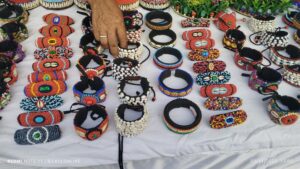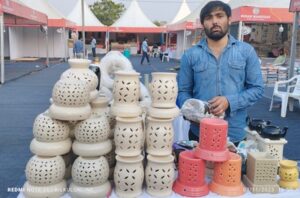 At 'Hunar Mahotsav' more than 300 artisans and craftsmen from more than 25 States/UTs are participating. Artisans, craftsmen and culinary experts are going to impress you with their skills and art. The states include Andhra Pradesh, Assam, Bihar, Delhi, Gujarat, Haryana, Himachal Pradesh, Jammu-Kashmir, Jharkhand, Odisha, Puducherry, Punjab, Rajasthan, Telangana, Uttar Pradesh, Uttarakhand and West Bengal.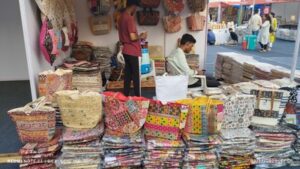 Located on the sprawling  Vallabh Sadan Open Plot, Sabarmati Riverfront in Ahmedabad the artisans are there to display and sell their fantastic products and cuisines.
Exquisite indigenous handmade products such as Applique work, dry flowers, jute-cane, brass products, wooden and clay toys, Ajrakh Block Print, Blue Art Pottery, Pashmina Shawl, Khadi products, Banarsi Silk, Wooden Furniture, Chikankari Embroidery, Chanderi Silk, Lac bangles, Rajasthani jewellery, Phulkari, Leather products, pottery, Jute products, organic Afghani dry fruits, artwork of Laddakh and much moreis available for sale. The visitors are also enjoying traditional delicacies from every region of the country at "Food Court" section and a live music Program, Sufi Night, Dance, Standup Comedy, Bollywood Night, Puppet Show, Magical Night, instrumental fusion, and Garba night at Hunar Mahotsav. This exhibition has a free entry for all.
Why wait, Go and witness it yourself with your family members and promote the work and art of our own artisans !