CaratLane achieves a milestone with the launch of its 250th store in its 100th city
Gandhinagar, Nov 5: CaratLane, India's leading omnichannel jeweller, has added yet another milestone with the launch of its 250th store in the 100th city , Gandhinagar, Gujarat. The new CaratLane store, sprawling over 2,000 square feet, will captivate shoppers with its wide array of fine jewellery offerings.
With this launch, the brand has also launched stores in Udaipur, Pratap Nagar Nagpur, Kalapahar Guwahati and cemented their spot as one of the leading omnichannel jewellery brands in 100 cities across India, spanning across a massive 3.50 lakhs of square footage in retail. The store hosts an impressive inventory of over 1100 designs including jewellery for kids and men. CaratLane is actively focused on expanding its kids jewellery category through various IPs, the most popular being Harry Potter x CaratLane. Additionally the brand offers instant engraving, ear piercing, ready inventory of higher ring sizes and personalised gifting services to all its customers, creating a delightful shopping experience.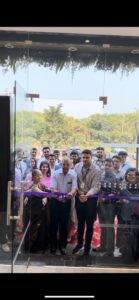 Speaking about the new store launch – Atul Sinha, Chief Operating Officer at CaratLane said, "For CaratLane, reaching this remarkable milestone of our 250th store in the 100th city across India is not just a celebration but a testament to our unwavering commitment to create beautiful and affordable jewelry accessible to all. With every new store, we are enabling more and more consumers in a catchment to  browse and discover jewellery designs they like and try the designs in a store near them using features like Try At Home and in store."
The launch of this store is a part of CaratLane's aggressive expansion plan, which includes opening stores in tier II and III cities across India. The company's vision is to make premium jewellery accessible to customers in every part of the country through its omnichannel approach.
About CaratLane:
CaratLane – a Tanishq Partnership, India's first omni-channel jewellery brand, was founded in 2008, by Mithun Sacheti and Srinivasa Gopalan, with a simple but courageous objective – to make beautiful jewellery accessible, affordable and forever wearable. All CaratLane collections draw design inspiration from a strong historical legacy and interpret them in a modern theme. With the new-age woman as a muse, the design philosophy at CaratLane is to make jewellery which makes the wearer 'feel' beautiful and draws out her compelling individuality, inner confidence and self-esteem.
With a strategic investment from Titan Company Limited, CaratLane is now partnered with India's largest retail jeweller, Tanishq. The partnership aims to work towards a common mission – to offer customers beautiful jewellery and a distinctive shopping experience that fits today's values and lifestyles – enabling CaratLane to grow as India's 21st-century jewellery brand.
CaratLane is also known for its signature jewellery-buying experience across all platforms. Along with the website, which is India's largest online jewellery destination, CaratLane now has 250+ brand stores across the country. CaratLane also pioneered a unique Try@Home feature for jewellery buyers in the country, where customers can book an appointment to get their desired jewellery delivered to their doorsteps and try them at their comfort, with no obligation to buy. Facilitating the diamond-buying experience in India, CaratLane stores also include a Solitaire Lounge personalised with a highly skilled team to assist diamond buyers in finding the perfect solitaire.