TCL launches Vitamin C Powered AI Ultra-Inverter AC in Gujarat
    BILKUL ONLINE                                                                                     
TCL is Conducting TCL Connect to address AC dealers, technicians and others
The brand is having factory in Tirupathi, which will soon be operating full-fledged
It's committed to boost the "Make in India" motto 
Ahmedabad, February 20: TCL Electronics, global Top-2 TV brand TCL has come up with a new feature in its AI Ultra-Inverter Air Conditioners – Vitamin C. The brand has conducted AC dealer meet, which witnessed huge numbers of technicians and dealers. Additionally, TCL's also shared update on its manufacturing plant at Tirupati is worth 2400 crore, with production capacity of eight million for 22-55inches TV screens and 30 million for 3.5-8 inches mobile screens per year. This is the brand's one of the most important step towards "Make in India" initiative.
The device comes with silver ion and dust filters (to keep in-room air clean and virus-free) are also equipped with a Vitamin C filter for an added layer of protection. The main t 3-in-1 filtration technology for its ACs will not only eliminate dust and bacteria from the air but will also provide a moisturizing effect to the user's skin and help prevent dryness. The ACs also features TCL's patented Titan Gold evaporator and condenser that prevents the accumulation of dust, dirt on the surface and increases the life span of the equipment.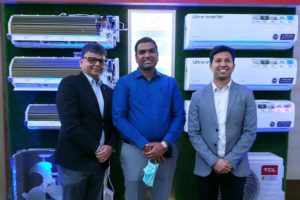 Commenting on the new upgrade, Vijay Mikillineni, Head of Air Condition Business said, "We must update our safety protocols to ensure a safe living experience in the post-COVID world. The latest upgrade to our Smart Air Conditioners is a step in a similar direction. With vitamin C filters, our ACs will provide another protective layer to consumers while they continue to spend most of the time at home."
On top of that, it has a high-frequency compressor that offers rapid comfort by dropping the temperature from 27 to 18 degrees Celsius within 30 seconds. It also offers AI Ultra-inverter compressor technology that can save up to 50% of energy consumption.Last but not the least, the device also supports Google Assistant, Alexa and the TCL home app, giving hands-free control to users and ensuring a smart home experience.