Over 5 lakh people in India need prosthetic, orthotic devices
Ahmebadbased Madhuram Charitable Trust is committed to supporting people with amputations and has provided prosthetic legs to 85 such people in its short journey.
BILKULONLINE
Ahmedabad, April 23: More than 5 lakh people in India need prosthetic and orthotic devices, and the number goes up by close to 25 to 30 thousand each year. Still, their prohibitive costs mean access to prosthetic devices is limited, leaving an overwhelming majority of the people with amputations leading a disadvantaged life.
One organisation that is committed to changing the situation and is working for the cause of amputees by supporting efforts for equitable medical access and care is Madhuram Charitable Trust, an Ahmedabad-based NGO.
In less than three years, the trust has changed the lives of 85 persons with amputations, including a large number of children, by providing them with prosthetic legs imported from Germany. The price of each prosthetic leg is in the range of Rs. 1 lakh to Rs. 2.5 lakh. The trust has also helped over 400 children from marginalised sections of society with several other surgeries and treatments.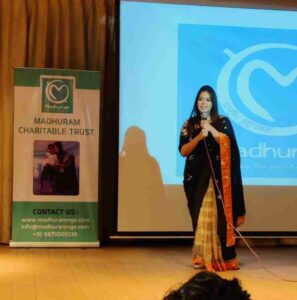 A comprehensive annual report about the activities carried out by the trust in the previous year and the touching and inspiring stories of its work was released at a function at GLS Auditorium on Saturday. The report was released in the presence of eminent dignitaries such as Pankaj Patel, Chairman, Zydus Lifesciences, Pavan Bakeri, Director, Bakeri Group, and Parag Desai, Executive Director, Wagh Bakri Tea Group, among others.
Also present on the occasion were the people who have benefited from the trust's works. Twelve people who have contributed to the trust's activities were felicitated by the dignitaries.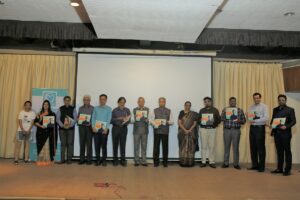 Speaking on the occasion, Ms. Shraddha Soparkar, Founder and Trustee of Madhuram Charitable Trust, said, "People with amputations are forced to live a disadvantaged life for no fault of theirs. At Madhuram Charitable Trust, we endeavour to help and support as many people as possible. We are glad to have been able to make a difference in the lives of the beneficiaries. This is a topic that is very close to our heart, and our annual report is a testament to the work done towards the cause."
"Our emphasis is on providing equitable medical access and care to people with amputations and helping them lead a healthy and comfortable life. We are committed to giving back to society and hope to continue our work for the benefit of more people and society at large," she added.
Incidentally, April is observed as Limb Loss Awareness Month. An initiative of the Amputee Coalition, it is aimed at raising awareness about amputations and empowering those affected by them to share their stories. According to World Health Organisation estimates, more than 30 million people worldwide need prosthetic and orthotic devices. Access to prosthetic care is a challenge not only in India but across the world. More than 75% of the developing countries do not have a prosthetic and orthotic training programme, often leading to poorer clinical coverage of patients.
About Madhuram Charitable Trust: Ahmedabad-based Madhuram Charitable Trust an NGO is dedicated to creating a positive impact in the lives of the marginalized, specially gifted, and physically challenged persons by fostering an environment that is both conducive and beneficial to their growth, nurturing, and acceptance.
Established in 2019 by Ms. Shraddha Soparkar, after she gave birth to a special child, Madhuram Charitable Trust is giving back to society by helping those who have not been fortunate enough when it comes to living a healthy and comfortable life. The trust's activities are focused on helping people make a new beginning in life and giving them another chance to fulfil their dreams.