TTF AHMEDABAD, THE LARGEST TRAVEL TRADE SHOW IN INDIA POST-PANDEMIC
TTF Ahmedabad commenced at the Gujarat University Exhibition Hall, for three days
BILKULONLINE
Ahmedabad, Sep 6: TTF Ahmedabad, the biggest travel trade show since the pandemic opened today.
The 3-day show is staging post-pandemic rebound of domestic and international travel, with over 700 participants from 3 countries and 22 Indian states and UTs.
Since decades, TTF has been the ultimate platform for the travel industry to meet, network and do business. It has a greater importance for the industry for a robust comeback of travel and tourism in India, leaving behind the aftermath of the pandemic.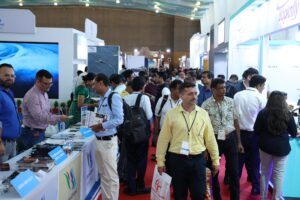 If the response to the show is any indication, the coming months of 2022-2023 is expected to witness a booming growth in travel and tourism across India. As the Indian domestic travel market is notably among the most resilient markets globally. Outbound travel from India is also booming with pent up demand, although there is a backlog in visa processing for many foreign countries.
With 68% of Indians expected to travel domestically in 2022 itself, domestic tourism undoubtedly plays a major role in the country's economy as well. According to reports, domestic air passenger traffic grew by nearly 67 percent (year-on-year) to 5.72 crore during January-June 2022.
Gujarat is one of the most valuable tourism markets and destinations. According to reports, the contribution of tourism to the GDP of Gujarat was estimated to be around 10.2 percent of the state's total gross domestic product in the year 2022, up from about five percent in 2015. Ahmedabad in particular has a significant contribution toward this growth.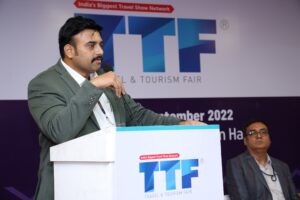 Gujarat has also reaped benefits of revival in incoming tourists. Air passenger footfalls in Ahmedabad rose by 194% in the first quarter of 2022-2023. Around 21.2 lakh passengers including international and domestic travellers, transited through the city airport during the period of April-June alone. The hotel occupancy and average daily rate (ADR) across hotels in Ahmedabad is witnessing a significant increase due to increase in corporate activities and the upcoming wedding season. As per hoteliers, ADR has increased from a low of INR 2,900 per room per night in April-May last year to as high as INR 5,500 per room per night. Occupancy levels have increased to an average of 75 percent across all hotels.
Providing a gateway to access this huge and vibrant tourism market of Gujarat, TTF – India's largest travel trade show network – is a well-timed show right before the Diwali and winter vacation travel seasons ahead. 
Goa, Himachal Pradesh, Karnataka, Kerala, Rajasthan, Uttarakhand, Madhya Pradesh, Odisha and Uttar Pradesh are the Partner States of the show. Assam, Jammu & Kashmir, Punjab, Tamil Nadu, Telangana and Andaman & Nicobar Islands are displaying their best as Feature States. Gujarat, the Host state is also showcasing all its attractions, and has offered its full support to the show. Private sector participants from all over India, from many states are also present at the show.
The show also has private exhibitors from several other states like Delhi, Haryana, Maharashtra, Sikkim and West Bengal, comprising travel agents, tour operators, hospitality chains, DMCs, attractions etc. 
TTF Ahmedabad has participation from abroad as well, including from Nepal, Turkey and UAE. Most of the states are participating with delegations of tour operators and hoteliers, in appreciation of the unabated spirit of Indian travellers that kept thronging these destinations throughout the pandemic, as they remained open with necessary precautions in place.
India Tourism too has a key presence at the show, showcasing all their campaigns and programmes such as 'Azaadi Ka Amrit Mahotsav', 'Dekho Apna Desh', 'Ek Bharat Shreshtha Bharat'.
The inauguration took place in the august presence of Dr. M. Mathiventhan, Tourism Minister – Government of Tamil Nadu,  Sandeep Nanduri, Managing Director – Tamil Nadu Tourism,  Karnesh Sharma,  Director Tourism – Government of Punjab, along with other dignitaries from the industry.
The show is reserved for travel trade visitors for all three days i.e. 6th, 7th & 8th September, from 11 am to 7 pm.
The travel trade fraternity was present in large numbers at the inauguration, with new as well as existing travel trade players, and huge footfall from the travel industry is expected over the next three days.
TTF is the oldest and biggest network of travel trade shows in the country, covering 9 cities annually, branded as TTF, OTM and BLTM. In addition to Ahmedabad, it is organised in Mumbai, Delhi, Chennai, Bengaluru, Kolkata, Hyderabad, Surat and Pune.
"We are extremely happy to be hosting TTF Ahmedabad in this vibrant market of Gujarat – the state having great influence and contribution in the rebound of travel and tourism in this post-pandemic phase. The massive participation from exhibitors and the overall response from visitors are proof that the industry is headed in the right direction and is recovering with utmost vigour.", said Sanjiv Agarwal, Chairman & CEO, Fairfest Media Ltd., the organisers of TTF. "TTF Ahmedabad, which is our biggest show of the TTF series, has received great support from the Host State, the travel industry at large and our association partners who are together gearing up for the revival of travel and tourism.", he added.