Spine curvature straightening successful operation on eight children held at GCS Hospital
Scoliosis operations were conducted by Dr Viral Jain and his team with GCS professionals
BILKULONLINE 
Ahmedabad, Feb 8: Yet another milestone was achieved at GCS hospital of Ahmedabad when eight children with scoliosis, an uncommon condition characterized by the lateral curvature of the spine were operated upon.
Dr Viral Jain of Cincinnati Center, USA served at GCS Hospital for a week (2–9 February) to perform the scoliosis correction surgery. The team from the US included spine surgeons Dr. Viral Jain, Dr. Peter Stum, Dr. Daniel Bachman, Dr. Marcus Shalby, and Dr. Ali Asma, anesthesiologists Dr. Vidya Chidambaran and Dr. Kim Beutel, implant specialist Tim Reuters, and neuro monitoring experts Megan Kloc and Lindsy Schapien, who were part of these life-changing surgeries without charging a single rupee".
Dr Jain while speaking to the media explained that "the surgery helps improve the curvature of the spine and stops further damage. It is a unique and complex surgery that takes around 5–10 operating hours, depending on the patient's condition and complexity".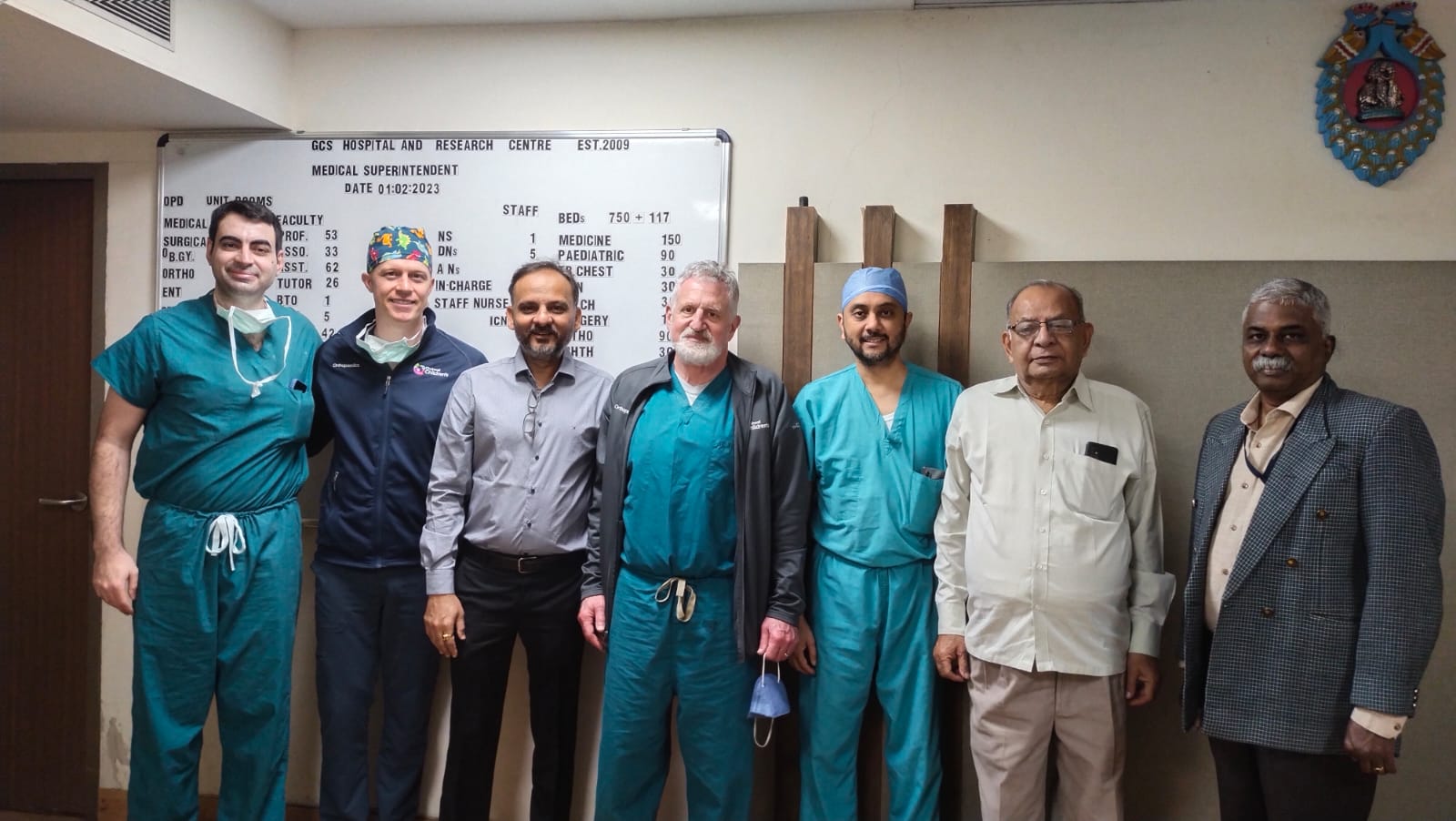 "Scoliosis is a sideways curvature of the spine that can lead to significant pain and discomfort. Unfortunately, scoliosis can start out mild and worsen over time. Due to the deformity, the patient suffers from several physical limitations. As spinal curvature becomes more severe, a teen with scoliosis may experience trouble breathing, back pain, and nerve or spine damage if the curve is left untreated. In addition to these physical problems, an invisible but very powerful symptom is scoliosis' effect on a teen's self-esteem" elaborated Dr Jain who happens to be an alumnus of V S Hospital, Ahmedabad and has been rendering his services in US for past 15 years.
 "Generally female patients of Scoliosis are more in the society and basically the disease is traced to the genetic malfunction and the complicated surgery involves extreme expertise of operating surgeon and anesthetic team and neuro monitoring experts. There are several challenges like bleeding and breathing challenges" observed anesthetist Dr Heena Chhanwal of GCS hospital.
GCS Hospital organized a special Diagnosis & Consultation Camp for Scoliosis during 23-25 January. Eight children screened during this camp were operated on for scoliosis correction surgery in association with a team of doctors from Cincinnati Children's Hospital Medical Center, USA.
"GCS Hospital is committed to providing high-quality medical care at affordable rates to patients. The scoliosis correction surgery camp is testimony to our commitment. We are also thankful to Cincinnati Children's Hospital Medical Center for their support of the noble cause." said Dr. Jyotish Patel (Head of Dept. – Orthopedics at GCS Hospital).
Scoliosis correction surgeries usually cost around Rs. 5 lacs, however, as part of GCS Hospital's commitment to serving society, these surgeries were done at highly nominal rates. These needy patients could avail of these surgeries for just a few thousand rupees. GCS Hospital has been organizing Scoliosis correction camps in association with Cincinnati Children's Hospital Medical Center for six years and has treated more than 40 children suffering from scoliosis so far.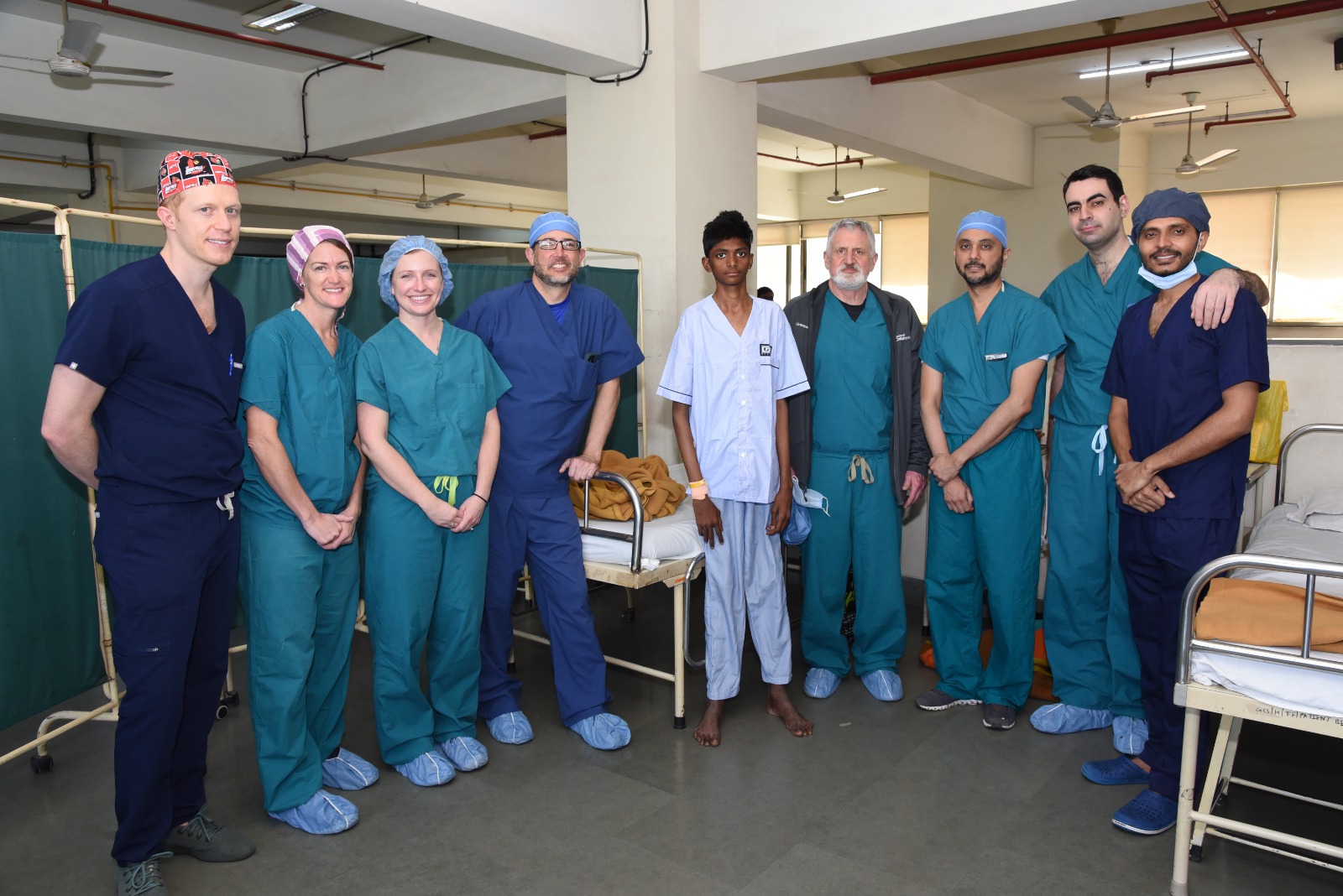 Generally between the age of eight to 14 years of growing age children are found to be getting their spines getting curved.  There is dire need to screen physically all the school children of India for any scoliosis, since an early diagnosis can lessen their pain and related issues.
Two patients who were operated of scoliosis deformity correction at GCS were present at the meeting. They and their parents expressed immense happiness and joy over the successful operation. Ikram Alam Ansari, 14, a student of class 10 at Jonpur, U.P. whose father is a tailor in Ahmedabad was successfully operated for the deformity just like Tushar Boricha, 14, of Junagarh.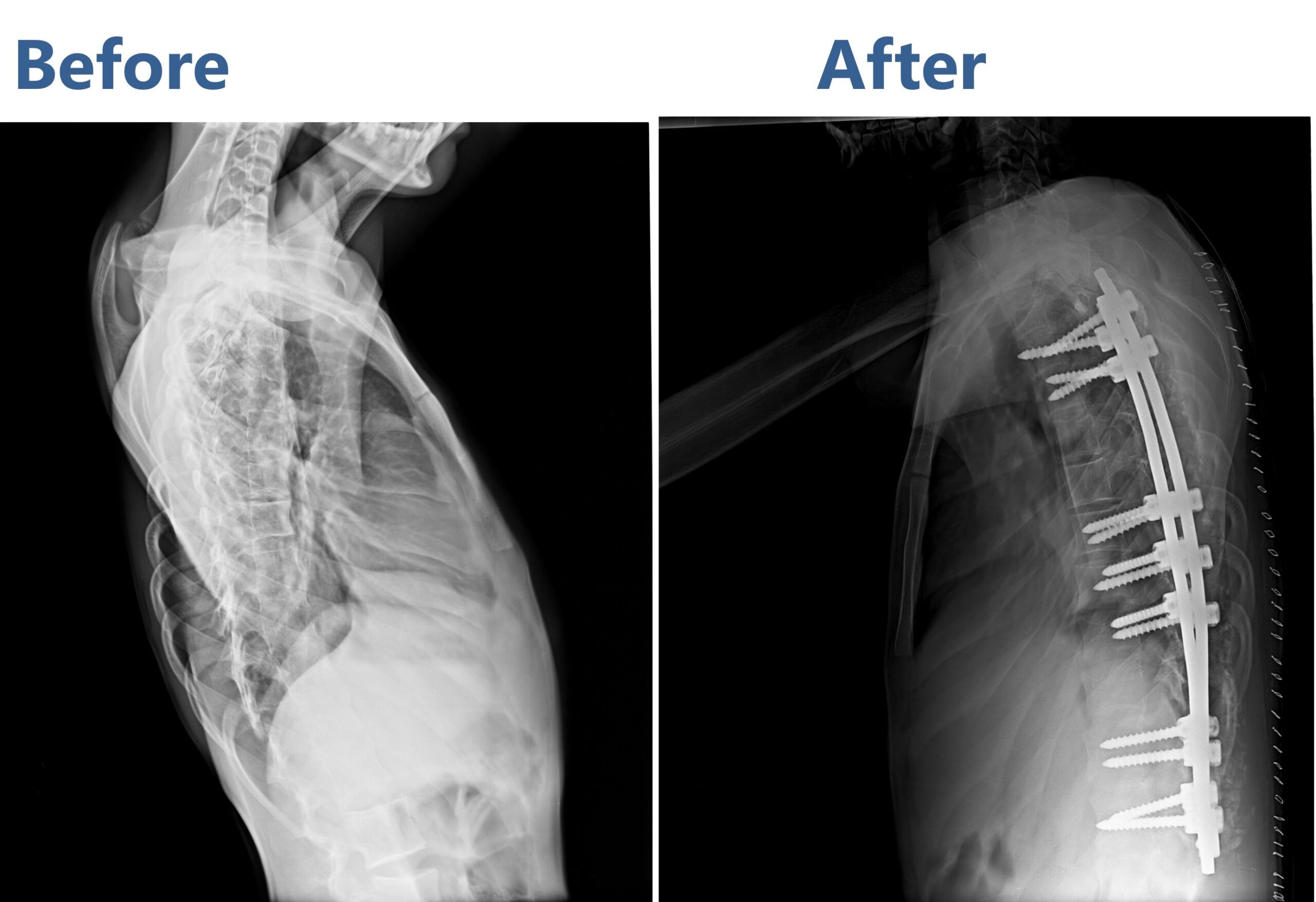 Tushar's mother told Bilkulonline that Tushar was teased and bullied by his class mates in school as he started growing tall, but, his spine was getting curved. They would call him "Bapu" (Gandhiji's old age stature) and laugh at him. Now that my son's spine has got straightened he will face this world with confidence" she observed.
Director of GCS Dr Kirti Patel, Dean Dr Yogendra Modi and Superintendent were also present at the press meet.