Foundation stone laid for Ahmedabad's 'Iconic ICAI Bhavan'
42 percent of the passed out CAs are women
BILKULONLINE
Ahmedabad, Feb 10: A triple times more number of CA (chartered accountants) are expected to pass out from Gujarat in the next batches with a massive building with all amenities for students is taking shape in Ahmedabad.
This and more was stated by the office bearers of the Institute of Chartered Accountants of India (ICAI). Occasion was to lay the foundation stoned of the proposed sprawling building of ICAI to take shape on a massive 1.5 lakh sq ft area on plush SG Highway roadside in Ahmedabad on Friday.
The 500 seat auditorium, state of art library and several amenities for CA students from across the country and especially from Gujarat, the green building scheme with solar powered engineering and exceptionally built amenities for the CA students is expected to have a capacity of 14,000 students as against the earlier 2000. The foundation stone was laid by ICAI National President   CA (Dr) Debashis Mitra in the presence of Vice President  CA Aniket Talati, CA Bishan Shah, CA Murtuza Kanchwala,  CA Purshottam Khandelwal and other fraternity members.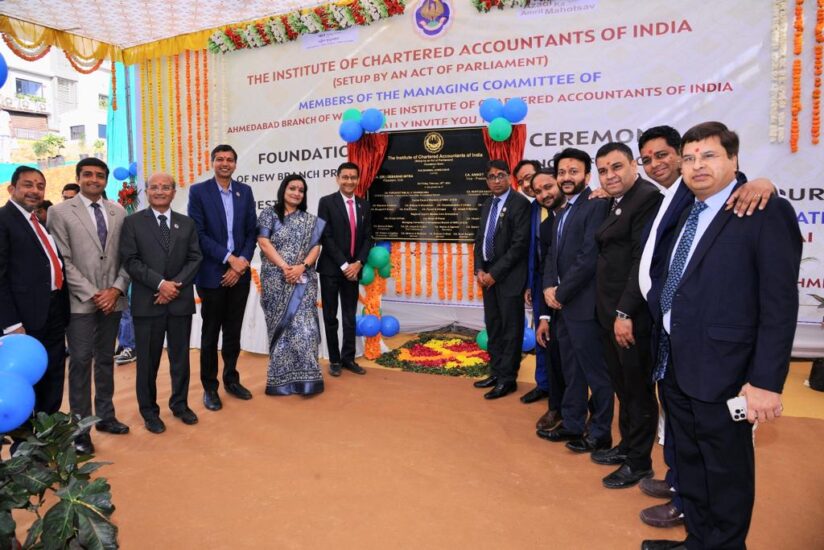 Addressing a media conference CA Mitra highlighted that the ICAI was set up before India became republic on 1st July 1949. It caters to over 8,00,000 CA students and 3,70,000 CAs with a sound percentage of 29 and 44 of women respectively, while the current year witnessed a 42 percent of women CAs passing out.
CA Mitra proudly pointed out that "'we are partner in nation building' this was defined for us by none other than our former President of India Dr. APJ Abdul Kalam. Recently in its observation the Supreme Court had made a point that institutes should learn from ICAI as to how to conduct examinations which they did even during Covid-19".
"We are contributing proactively in the B-20 segment of G-20 mission of India which is  a point of great honour and pride for us. We are aiming at training our young professionals with new blends of social responsibilities, ethics and environmental auditing. SEBI has offered us with the job of setting Social Audit Standards for the Social Stock Exchange and regulate it thereby the Indian Institute of Social Auditors has become a reality. Now we are leaders in different fields which results in added responsibilities and contribution of our professionals in nation building" added Mitra.
CA Bishan Shah provided details of the newly coming up building of their dreams which he said is aimed to be completed by the end of this year. We are going to provide coaching and training to aspiring students coming from all over Gujarat at a nominal cost and are committed to provide every possible facility to the students and our professionals so that more and more students  can take advantage of it and fulfil their dreams as CAs".
CAs want to be the torch bearers of the 3Ps (profit, people & planet) in the changing techno savvy world. Today they were full of joy and bustling with new enthusiasm to soon have their estimated  48 crore's huge, impressive and green building. CA Khandelwal informed the media that CA Aniket Talati was going to be sworn in as the new president of ICAI soon.