Gandhingar pulls aspiring buyers of residential and commercial spaces at 'Tri-City Property Fest 2023′
Visit the Fest to explore your dream house and office in Gujarat's Capital:
CREDAI Gandhinagar
BILKULONLINE
Ahmedabad, Feb 22: As the cities grow demand for residential and commercial spaces also grows. But, for Gujarat's capital the story is slightly different. It is unusually and pleasantly a distinct place. On one hand it occupies the vibrant state of Gujarat's Assembly premises to various important government offices and several officers' and staff's residences. On the other hand it is India's second finest planned city after Chandigarh and is pleasantly green and clean.
Named after the father of nation Mahatma Gandhi who was born in Gujarat, Gandhinagar is located approximately 23 km north of Ahmedabad, on the west central point of the industrial corridor between Delhi, the political capital of India, and Mumbai, the financial capital of India.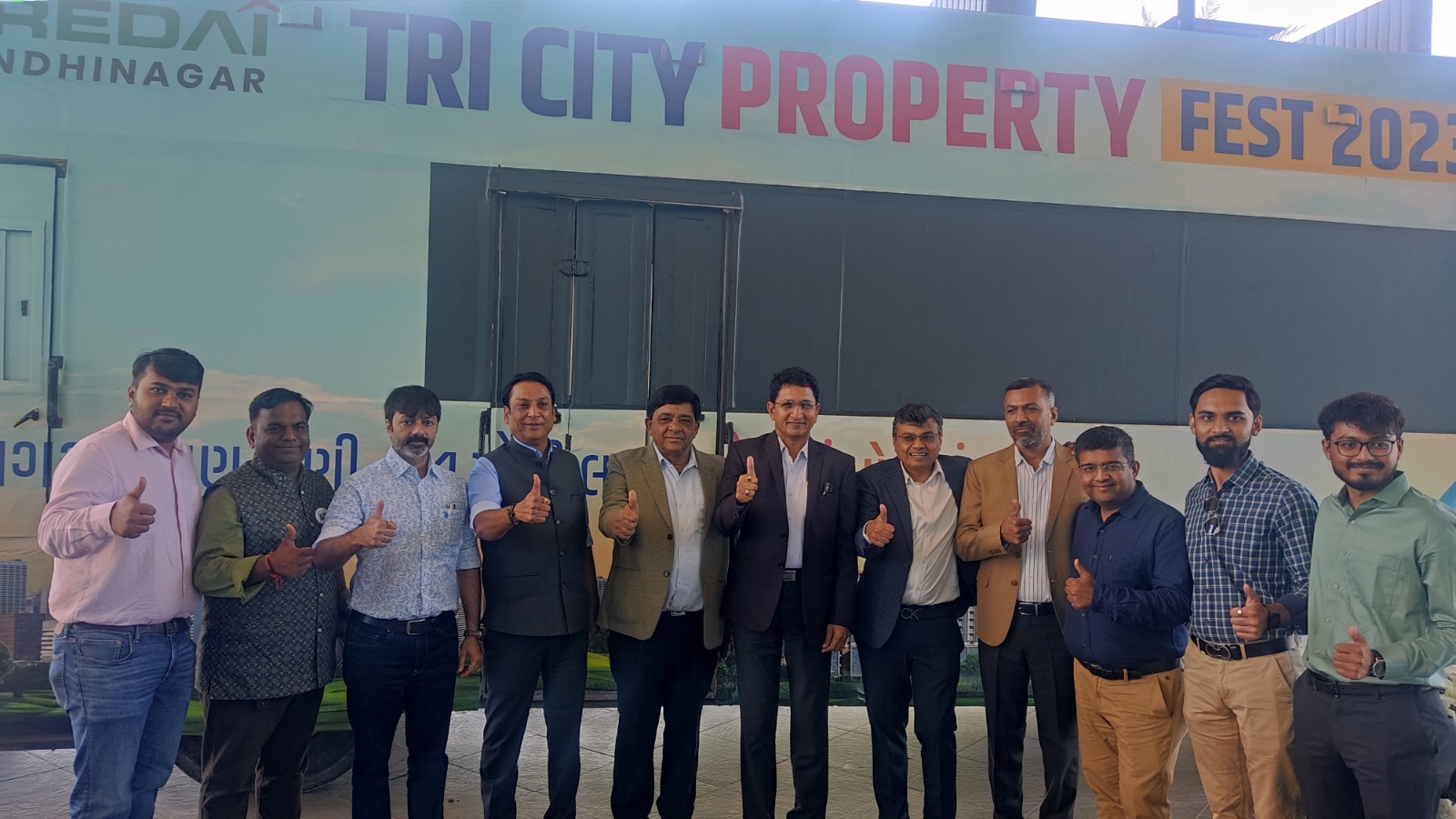 Jayant Sheldiya, Chairman of CREDAI Gandhinagar while addressing the media stated that "We decided to organise this property show with an aim to facilitate builders and developers and to present their projects to the aspiring buyers and also interact with them for their ongoing projects."
Popular real estate developer 'Kaavyaratna Group' is hosting the Tricity Property Fest at Gift city.  Patron Sponsors of the event include Shreeji Group, German TMX and Shikshapatri.
The Confederation of Real Estate Developers' Association of India (CREDAI) is an association formed by developers and builders in India for self-regulating the business of real estate development.
Sheldiya emphasised that they were "inspired by the words of Prime Minister Narendra Modi who was the dreamer behind the modern development and facelift of Gandhinagar. Hundreds of important meetings, exhibitions and grand functions of international and national scale have since been organised in Gandhinagar. Ahmedabad has a glorious past, Gandhinagar is the centre of administration, policies and decision making while Gift City is a major futuristically planned tech-fin  area, hence the concept of Tricity Property Show."
 Kiran Patel, President CREDAI Gandhinagar said "we are expecting around 30,000 visitors at the Fest during the three days Feb 24-26.  250 big and small projects with all the details at a QR code registration is available at the Fest. 120 projects were ready to be sold while other on- going projects details were ready to be displayed. Half of all the projects that were taking shape at Gandhinagar will be Green Buildings."
The exciting three-day event has many firsts to offer. Lot of attractions like discount of Rs one lakh discount for the outright purchase, daily lucky draw, digital bouquet of information source were all designed by Nishit Shah Strategic planner Director Gobananas through his creative team held the task of making the Gandhinagar property fest visible through attractive advertisements on different mediums and social media.
Jashu Patel Vice President of CREDAI-G welcomed the visitors to take advantage of the fest and plan their purchase of property by visiting the Fest where they can explore the latest trends and innovations in the real estate industry.