First of its kind in India 'New Lion Series Mini Tractors' – a boon for farmers
Captain Tractors surpass the targets and set new benchmark
First single cylinder tractor series open a new chapter 
BILKULONLINE
By: Rafat Quadri
Ahmedabad, Feb 27: All of us agree that agriculture, with its allied sectors, is the largest source of livelihood in India. With every passing day, technological advancement in the field of agriculture related equipment, gadgets and processes is touching a new scale.
Captain Tractors' founders – two farmer brothers G T Patel and M T Patel of Rajkot had a great vision and dedication.  Hence, in 1994 itself Captain Tractors manufactured mini Tractors and implements used in farming first for their own consumption and then as it being taken up as a business venture. There is no looking back for the group.
The launch of Lion Series of Mini Tractors is the new feather in the cap of Captain Tractors. It was formally launched amidst a 1000 farmers' gathering on February 26, at the Khodaldham temple in Rajkot as a symbol of faith.
Rajeshbhai Patel, Managing Director and Dinesh Vashishth the Executive Director of Captain Tractors company (pvt) addressed a media conference in Ahmedabad on Monday to provide all the details about their new launch and the progress of the company.
Speaking at the occasion, Rajeshbhai Patel reiterated that "Captain Tractor's Lion Series of mini tractors has many features, including brand new and impressive looks, a 9+3 side-shift transmission, a short turning radius, a powerful single-cylinder engine, adjustable wheel rims that can range from 28 to 39 inches in mesh, a feather touch highly effective hydraulic with a 1000 kg capacity, oil-immersed brakes, PTO with 540 and 1000 rpm, a rubber mat with a large foot floor, high-gripping rubber pedal pad, illuminated project lamp, and fender handle for easy entry and exit, etc. that are ready to support farmers in every situation".
"The Captain compact tractor's engine is its heart – it has been examined and approved by ARAI to comply with pollution control criteria. Available in more than ten attractive colours, the new mini tractors of Captain Tractors' mini tractors are already capturing 20 countries of Europe and are loved by hobby farmers and couples besides the farmers who use it in wet mud and narrow lane for variety of farming needs".
Dinesh Vashishth explained that "this tractor is designed for farmers who need to work continuously without stopping or slowing down. With this tractor, farmers will have a solution to their daily farming problems. The mini single-cylinder design is prepared in such a way that this series provides the most powerful, convenient, comfortable, attractive looking, safe tractor ever, which fulfills the dreams of every farmer. It requires very little maintenance and diesel usage usage".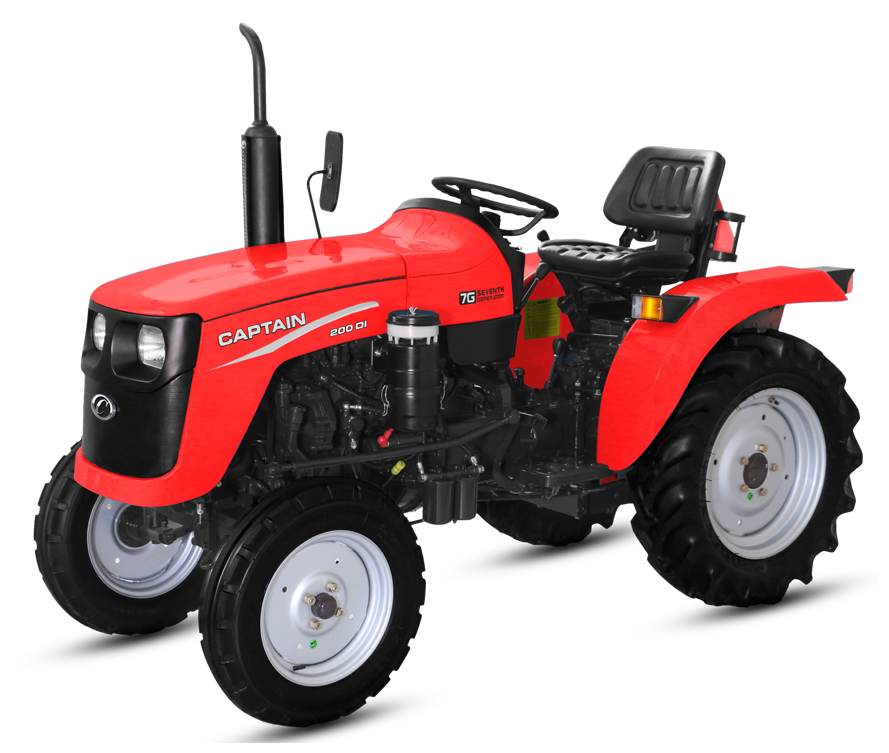 Vashisht insisted that "the advanced design of the new mini tractors has been made with an aim to provide farmers comfort and profit, so that they do not get tired despite working for long hours and can continuously increase their efficiency and perform accurate farming. It is also the most convenient mini tractor for transportation".
At the ceremony organized at Khodaldham, 200 tractors were sold to the farmers. Lucky draw system and other incentives were pressed into the system of sales and distribution of the new Lion series mini tractor. Mini tractors can do a variety of functions, making it easier to transfer between them. It makes no difference whether the task is commercial or agricultural. This is why mini tractors come with a variety of attachments such as toppers, mowers, heavy equipment, harrows and trailers.
Captain Tractors constitute nearly ten per cent of mini tractors business of India of  1,00,000 tractors. The company is exploring the cost effectiveness of  a possible electric vehicle category of their product. With new new goals and targets figured, the company is surging ahead with innovation in manufacturing and presentation of stylish, comfortable and long lasting useful tractors for the farming industry.
Captain Tractors is also amongst the pioneers to introduce digital assistance of maintenance and repairing help to facilitate the tractors used in remote areas.