Ahmedabad's Veechar trust Utensil Museum & Vishalla Restaurant to feature in History TV 18's OMG Yeh Mera India on March 16
BILKULONLINE
By Rafat Quadri
Ahmedabad, March 15: Surendra Patel is the man behind this unique venture 'Vishalla' – a restaurant spread over a village like ambience and housing world's one of the most unique museum displaying a precious collection of utensils.
'Veechar Trust run Utensil Museum and Vishalla Restaurant' are going to be featured on History TV 18's famous programme "OMG Yeh Mera India" on Thursday, March 16 at 8p.m.
Vishalla Restaurant is situated on Vasna-Sarkhej road, opposite to APMC Market in Central Ahmedabad area. Vishalla is known for its authentic food where artificial colours, frozen food have a bid no no. Its thali (plate of food items) is full of tasty, organic, authentic vegetarian food delicacies which leave a lasting impression on visitors, of its green and serene sprawling layout and genuinely tasty food.
Surendra Patel founded Vishalla on 27th March in 1978. Three years after this he set up Utensils Museum which he soon registered under public charitable trust Veechar.
Why and how did Surendra conceive the idea of  Utensil Museum?
Sharing the details with BILKULONLINE, about the birth of the idea, Surendra said that it was during one of his business visit to Sihor village near Bhavnagar that he observed the decorative and beautifully crafted old vessels going to the furnace to melt. The market he visited used to buy old vessels and sell new utensils and appliances. Young Surendra with innovative ideas and full of enthusiasm of running a unique set up of Vishalla on Ahmedabad outskirts was in no mood of seeing the stuff go for melting. He decided to buy old stuff which was worth collecting. Thus, the Utensil Museum started taking shape with a self  commitment and perseverance of Surendra.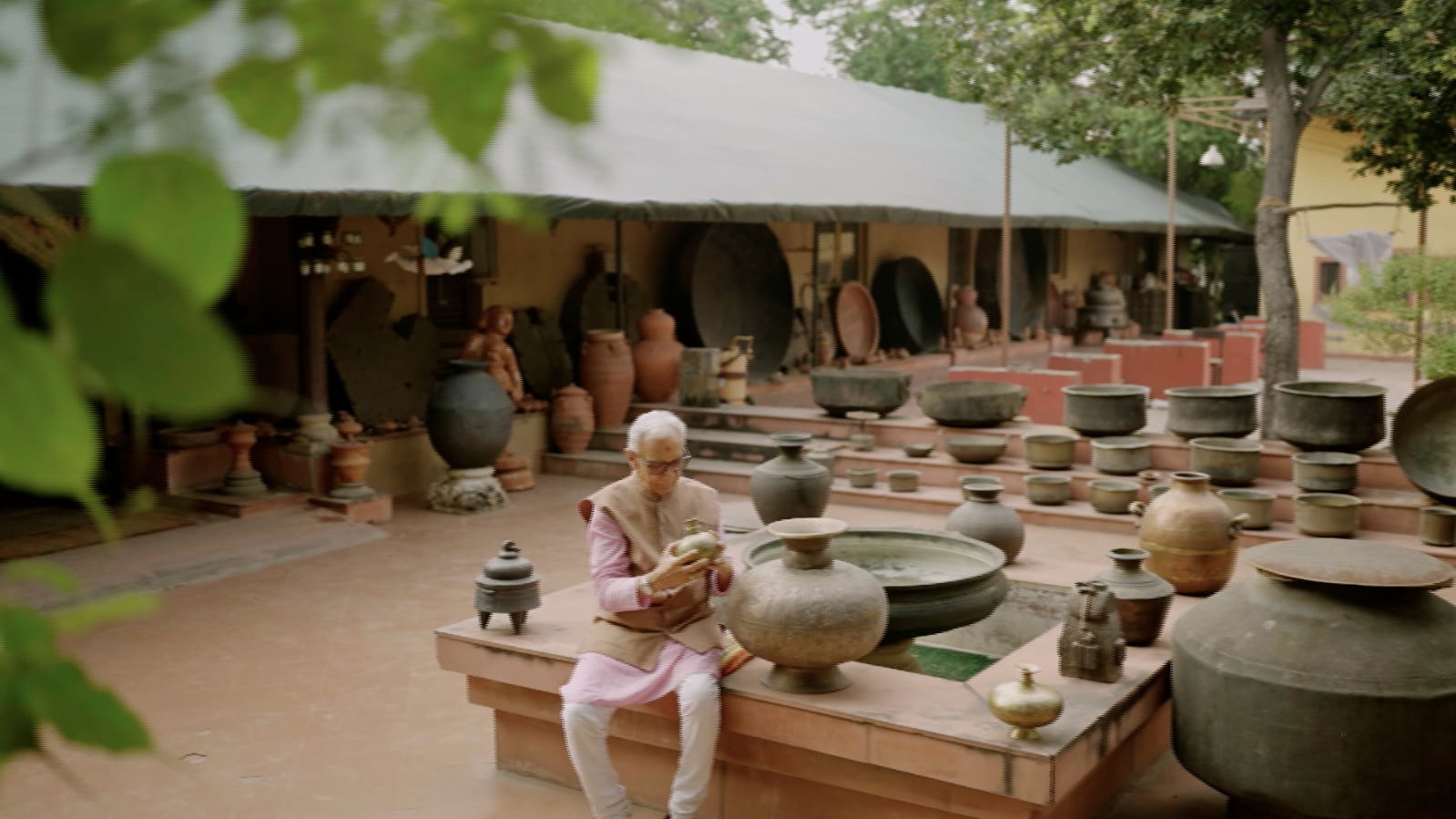 An impressive award distribution programme takes place at the premises of Vishalla on every 27th March to mark its foundation day which also coincides with the World Theatre Day. Artists and artisans are felicitated with an aim to promote the art forms and to create awareness about the value of these art forms.
At this juncture it is worth pointing out that Surendra is himself a painter of repute where he converses with colours on canvas.
Veechar Cultural and Heritage Museum for Utensils boasts of showcasing over 4,500 utensils including a 1000 year old 'bank' and many other unique items carefully preserved for several years.
Surendra has collected these utensils from all over India and has a team of 10 people to maintain this collection and keep it safe. Crossing the Indian border the entire museum of Surendra has once been the participant of an exhibition at Russia.
Surendra Patel an engineer by profession is the designer of Vishalla. He shares his success in the establishment of Vechaar with Jyontindra Jain, a well-known anthropologist. The museum is present within the Vishalla campus and is accessible to the visitors with a nominal fee. It is closed on every Monday.
For Surendra Patel age is just a number as he keeps inspiring the youth with his art and skill and a successful business venture.
(Rafat Quadri can be reached at:  editorbilkul@gmail.com)