Issue price fixed, Mankind Pharma IPO opens on April 25
Price Band fixed at ₹ 1,026 per equity share to ₹ 1,080 per equity share of face value of ₹ 1 each of Mankind Pharma Limited 
Anchor Investor Bidding Date – Monday, April 24, 2023
Bid /Offer Opening Date – Tuesday, April 25, 2023 and Bid/ Offer Closing Date – Thursday, April 27, 2023
Bids can be made for a minimum of 13 Equity Shares and in multiples of 13 Equity Shares thereafter
BILKULONLINE
By Rafat Quadri
Ahmedabad, April 20: Mankind Pharma has set a price band of ₹1,026-1,080 per share for its upcoming initial public offering (IPO). The issue will open on April 25 and close on April 27.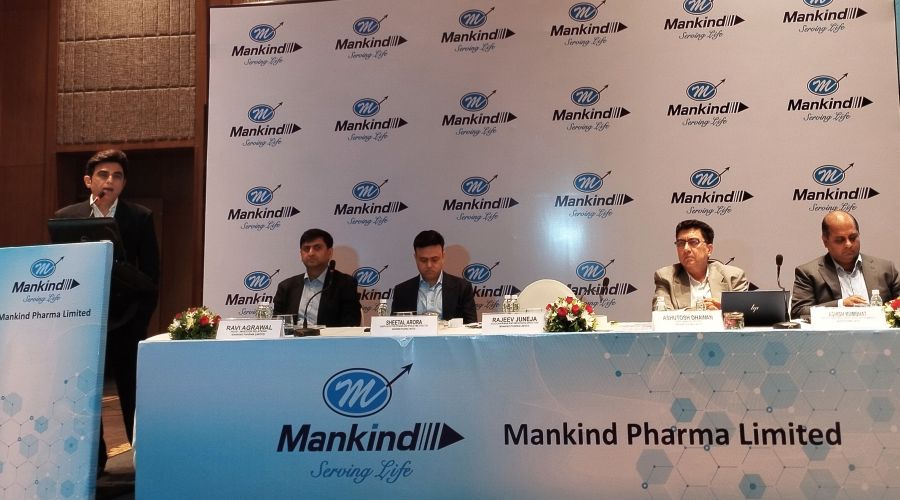 At the upper end of the price band, the fourth largest pharmaceutical company in terms of domestic sales will be valued at ₹43,264 crore. The four-crore share IPO will be entirely an offer-for-sale (OFS) where existing shareholders will offload a portion of their stakes.
Promoters led by Ramesh Juneja, Rajeev Juneja, and Sheetal Arora will collectively sell around one crore shares through the IPO, representing about 2.5% of their holding in the company.
The investors selling shares include Capital International (via affiliates Cairnhill CIPEF and Cairnhill CGPE), which will sell two crore shares. Beige and Link Investment Trust, affiliates of Chrys Capital will be offloading one crore shares or a 2.5% stake. Capital international owns an 11% stake and Chrys Capital about 10%.
Bids can be made for a minimum of 13 shares and in multiples of 13 thereafter. Half of the shares in the IPO are reserved for qualified institutional bidders (QIBs), while non-institutional investors (NIIs) will get 15% of the shares from the offering. The remaining 35% of shares will be allocated to retail investors.
Addressing a press meet at Ahmedabad, Rajeev Juneja, Managing Director of Mankind Pharma explained that his company is a MPL is India's fourth largest pharmaceutical company in terms of Domestic Sales and third largest in terms of sales volume for MAT December 2022 . It is engaged in developing, manufacturing and marketing a diverse range of pharmaceutical formulations across various acute and chronic therapeutic areas, as well as several consumer healthcare products. 
MPL is focused on the domestic market, as a result of which its revenue from operations in India contributed to 97.60% of total revenue from operations for the Financial Year 2022, which was one of the highest among peers identified by IQVIA . It operates at the intersection of the Indian pharmaceutical formulations and consumer healthcare sectors with the aim of providing quality products at affordable prices and has an established track record of building and scaling brands in-house. The company has created 36 brands in the pharmaceutical business that have each achieved over Rs. 50 cr. in Domestic Sales for MAT December 2022.
MPL has one of the largest distribution networks of medical representatives in the Indian pharmaceutical market  and over 80% of doctors in India prescribed its formulations for MAT in December 2022.
MPL has a Pan-India marketing presence, with a field force of 11,691 medical representatives and 3,561 field managers, as of December 31, 2022. It has also established a significant distribution network in India and, during the nine months that ended December 31, 2022, it sold products to over 12,000 Stockists and engaged with 75 clearings and forwarding agents. 
It operates 25 manufacturing facilities across India and had 4,121 manufacturing personnel as of December 31, 2022.  As of December 31, 2022, the Company had a team of over 600 scientists and a dedicated in-house R&D centre. Some of its largest-selling popular brands are Manforce Condoms, Prega News, Gas-O-Fast, Nurokind, Telmikind, Dydroboon and more.
(Rafat Quadri can be reached at: editorbilkul@gmail.com)