What if the World is One and there is only One religion in it … Watch the film 'The Creator- Sarjanhar'
Rajesh Karate 'Guruji'  conceptualized  'The Creator- Sarjanhar' to release on  May 26
Ahmedabad, May 25: Hindi films are usually made for fun and entertainment, but, when a  film is presented to you with a unique message which hits right onto your heart and appeals to your mind, it is said to be the life capsule.
Similar is the echo that comes out from the film  'The Creator' which  has basically been the idea and concept of its producer Rajesh Karate alias 'Guruji'. Beautifully and effectively conveyed by none other than the youth icon and strongest character of  longest run television show CID –  Dayanand Shetty (famously known as Daya).
This unique film with a message to love and understand others rather than imposing your values and beliefs on others is being released on May 26 in theatres.
Providing details about the concept Guruji informed BILKULONLINE that it was his desire and mission to make a film with this strong message of spreading love and respect for others to make a tolerant and loving world where there is level playing filed for all and there is no discrimination with one another in the name of religion. Guruji himself is a believer of living in co-existence and seeing a world where are driven not with hatred but united with empathy, respect and love for each other. Guruji says only then can world remain a place to live in and enjoy the life. Else, Guruji says it is of no sense that  people enter into maligning and attacking each other just because others do not follow or endorse their views of life and lifestyle.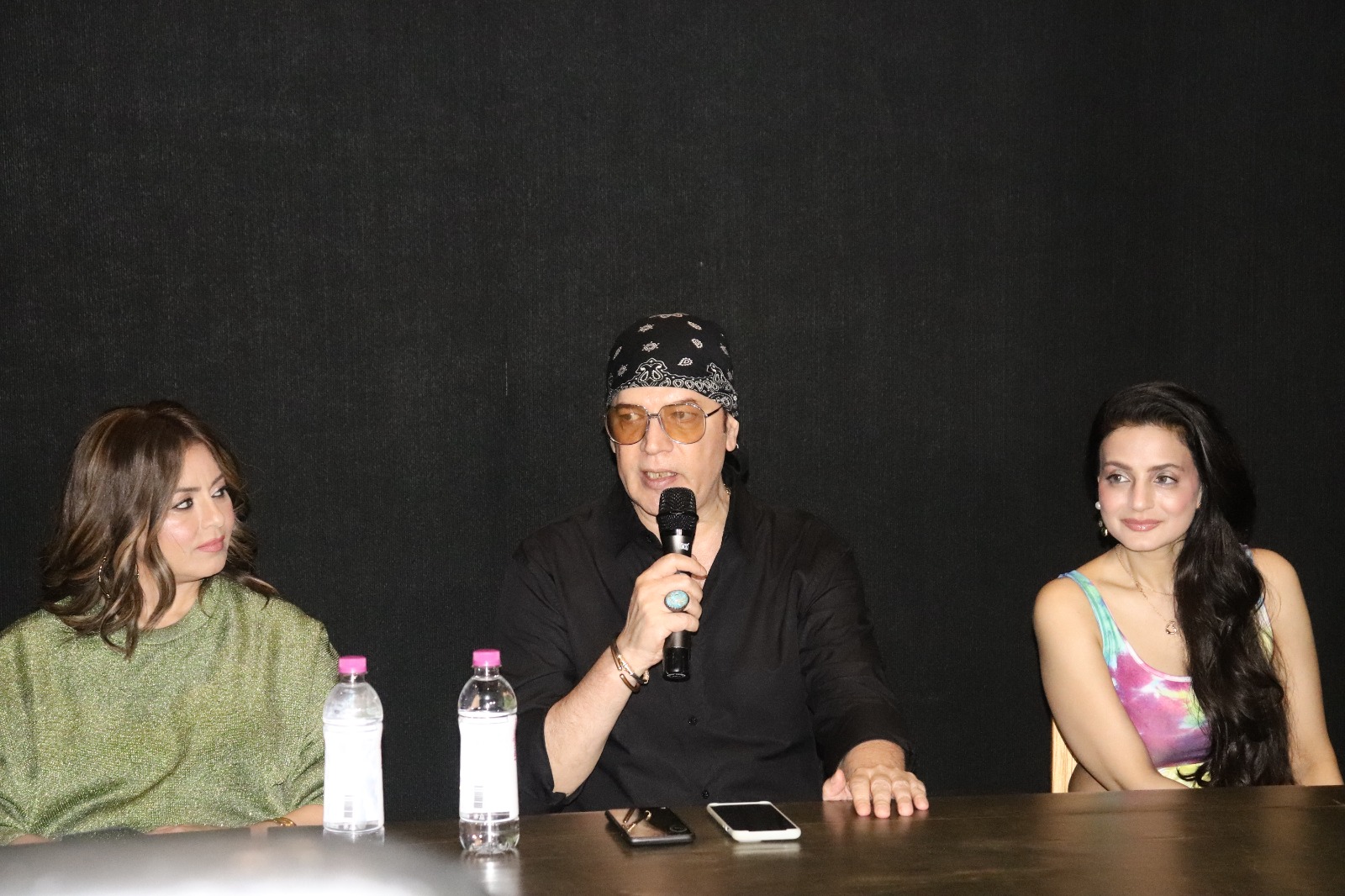 On this occasion main character of the film Dayanand Shetty (who is acting as a renowned scientist 'Mr Ray') said that people these days are wearing the religion on their sleeves which is not good. All faiths are to make the world and its inhabitants live a better life and not to hurt and attack each other.
"When this unique story with such a passionate producer and young and energetic cast was brought before me, I had no other choice but to accept it. Within a stipulated period of 31 days were finished the shooting and it was a fantastic experience to work with Guruji and the young artists".
Bollywood actresses Amisha Patel and Mahima Chaudhary & actor Aditya Pancholi were also present on this occasion besides the producer of the film Guruji. They narrated their experiences proving that humanity is the only religion in the world which knows no boundareis and can be dictated by the diktats of vested interested politicians and religious heads.

The film is written and directed by Praveen Hingonia, while the concept of the film goes to Rajesh Karate "Guruji" who is also the producer of the film. 'Rajesh Karate Guruji's Ashram named Satya Shabd Sanshodhan is running in Mehsana. He and Rajubhai Patel have made the film The Creator together. The film stars Dayanand Shetty, Arya Babbar, Anant Mahadevan, Raza Murad, Rohit Chaudhary, Bhuvnesh mam, Jashn Kohli, Himani Sahani, Eliza Sehgal, Bushra Sheikh, Shruti Ulfat, Gurdeep Kohli, Gyaan Prakesh, Pramod Moutho, Shaji Chaudhary, Sanjay Swaraajand many well-known actors.
Talking about the film, Rajesh Karate "Guruji" said, ""What is happening in this world? Where has all the humanity vanished? Why are people so indifferent towards each other? Deeply analyzing these issues I realized that it is one single issue that has divided humanity. But where is the religion of humanity gone? There is hate and violence all around in the name of religion. Hence the answer would be if there is one world, then we should have ONLY ONE RELIGION and most of the troubles and miseries of people will be over. My film 'The Creator' talks about peace and love. One can just imagine how the happy human life would be if there were no religions in the whole world, no borders anywhere in the world."
Hingonia added  "Our film promotes love and peace. There is no religion bigger than humanity, through this film we want to spread this message to the whole world. Man should be like a free bird, so that he can fly freely in the whole world."
Asif Chandwani, Parashuram Mishra, Rudra Gautam have given the music of this film. It is worth mentioning that the shooting of this film has been done in different places in Gujarat.
The audience is eagerly waiting for the movie  'The Creator- Sarjanhar' which is all set to hit the theaters on May 26, 2023- Friday.