Vadilal showers love, fun and music through its signature tune 'Dil Bole Waah Waah Waah' in Ahmedabad
Ahmedabad, June 25:  Celebrated each year on 21st June, International Music Day holds great significance as it celebrates the power and universality of music, highlighting its role in promoting cultural understanding, peace, and harmony. It also encourages brands to express themselves creatively, and appreciate the beauty of music in all its forms.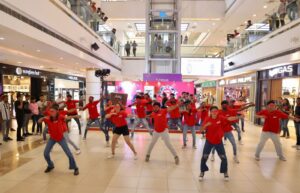 Vadilal, one of the most trusted and loved brand of Ice Cream across the nation, has realized the powerful potential of music and song as a creative form of expression and hence organized flash mob activities at Urban Chowk (23rd June) and Ahmedabad One Mall (24th June) to celebrate the success of it's recent campaign – Vadilal's Dil Bole Waah Waah Waah which revolves around the catchy and upbeat song called Dil Bole Waah Waah Waah. 
The Event was conducted by a crew named AURA dance to Vadilal's new song campaign of 'Dil Bole Waah Waah Waah' and everything from the music and beats to the dance moves were ideated keeping connecting with all as the brand's primary motive across all ages. The genre of this song is such that it can easily be moulded into the content of every style. A creator can hip hop to it, rap to it, even fusion dance to it, or simply move to its groovy beats. It is catchy, funky, and absolutely inspiring for all members of the family to enjoy the same. Vadilal received tremendous appreciation and positive feedback from happy customers to continue to organize such fun activities.