Demonstration for peace and violence against Manipur : Left parties unite in Ahmedabad to protest
BILKULONLINE
Ahmedabad July 1: All the Left organisations under one umbrella united to voice and reach out to the people towards the ongoing issue of Manipur.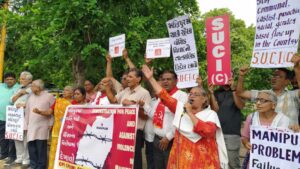 A demonstration to this effect was organised in Ahmedabad on Friday by the Socialist Unity Centre of India (Communist) (SUCI(C)), Communist Party of India (CPI), Communist Party of India (Marxist) (CPI (M)) and Socialist Party.
The demonstration was held on Manipur issue at Lal Darwaja, Ahmedabad. They raised the demand of resignation of the Manipur Chief Minister. They said  both state government and Central government have failed in Manipur issue. They also demanded that police and army excesses on common people should be stopped.
They expressed their concern about the worsening situation in Manipur and also expressed solidarity with the people of Manipur. The general feeling of the demonstration was that all the sectarian political parties must stop communal, casteist, parochial, gender based inciting for the sake of their narrow sectarian petty political interest.