SC Collegium rejects requests of 3 HC judges against their transfers
New Delhi, July 13 : The Supreme Court Collegium headed by CJI D.Y. Chandrachud has  reiterated its recommendation to transfer three High Court judges while rejecting their representations against the move after a "thoughtful consideration".
On July 5, the SC Collegium had proposed transfer of Justice Gaurang Kanth of the Delhi High Court to the Calcutta High Court for better administration of justice. However, Justice Kanth requested for his transfer to the High Court of Madhya Pradesh or Rajasthan or any other neighbouring state.
Similarly, Justice Dinesh Kumar Singh of the Allahabad High Court was proposed to be transferred to the Kerala High Court by the Collegium.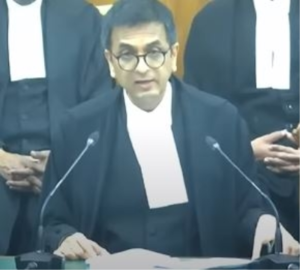 Justice Singh, however, has requested for transfer to nearby states such as Delhi, Punjab & Haryana, Madhya Pradesh or Rajasthan.
Justice Manoj Bajaj, was proposed to be transferred to the Allahabad High Court. However, he requested the top court Collegium to continue him to function at Punjab & Haryana High Court.
On Wednesday, the Collegium said that it did not find "any merit" in their requests and reiterated its earlier recommendations for transfer. "We have carefully gone through the request made ….., and bestowed our thoughtful consideration to the contents thereof. The Collegium does not find any merit in the request made by him. The Collegium, therefore, resolves to reiterate its recommendation dated July 5, 2023," it said.
The Supreme Court Collegium did not agree on their individual requests to continue at the current High Court or be transferred to neighbouring states of their choice.
It rejected the requests made by three HC judges and reiterated its earlier recommendations made on July 5 for transfer.