Rain plays havoc in Gujarat !
Over 700 evacuated, nearly 360 rescued as 12 major highways shut down in rain-hit Gujarat
BILKULONLINE
Gandhinagar, July 23: In view of heavy rain, two national highways passing through Porbandar and Kutch, along with 10 state highways have been shut down by Gujarat government.
Gujarat's Relief Commissioner Alok Pandey confirmed the evacuation of 736 individuals to safer zones, alongside the successful rescue of approximately 358 people.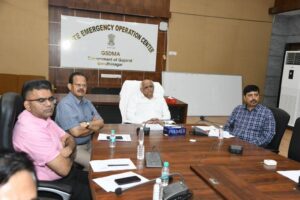 A total of 302 roads inclusive of 271 panchayat roads were closed. To date, 736 people have been transferred to safe locales. Dams are filled in Junagadh Valsad, Gir-Somnath, Porbandar, and other districts. Narmada Dam is currently 67 per cent full, with other dams being filled to their brim.
In the wake of ongoing heavy rain, nine teams from the National Disaster Response Force (NDRF) and State Disaster Response Force (SDRF) were dispatched to the most affected districts. Junagadh, specifically, is benefiting from the aid of two teams each from the NDRF and SDRF, who are engaged in rescue and relief operations.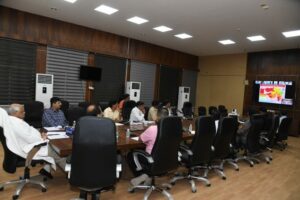 The Meteorological Department has warned of continued heavy rainfall in districts including Gir-Somnath, Junagadh, Kutch, Porbandar, Valsad, and Navsari in South Gujarat, even on Sunday. 
Gujarat Chief Minister Bhupendar Patel convened an important emergency meeting to address the situation and its havoc in Gujarat specially Junagarh, Navsari etc. He instructed to the respective departments heads. Both Gujarat administration and police are at the help of people in trouble due to heavy and too much rain and its impact. Highways and several road routes have been closed temporarily or diverted. 
Meanwhile, there is prediction of more rain for today and the next couple of days. Hence, the administration is on toes and ready.