Gujarat: PM Modi inaugurates international airport in Hirasar
BILKULONLINE
Rajkot, July 28: Prime Minister Narendra Modi on Thursday inaugurated an international airport near the city of Rajkot in Gujarat.
The airport has been constructed at an expenditure of Rs 1,405 crore and is situated in Hirasar village, about 30 km from Rajkot.
The airport spans over an expanse of 1,025.50 hectares (2,534 acres), with 1,500 acres being allocated for the airport's construction by the Airports Authority of India.
The Prime Minister said that the Central government has continued its efforts in last 9-years to ameliorate the living conditions of every social class and region.
He emphasised on the commitment of 'Sushasan' or good governance and underlined the considerable strides made in poverty reduction, referring to a recent report that revealed 13.5 crore citizens rising above the poverty line in the past half-decade, creating a burgeoning neo-middle class.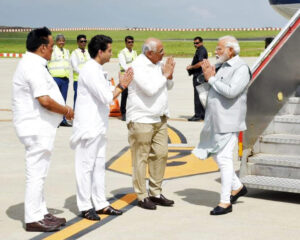 Prime Minister also said that the government is commitment to enhance connectivity. He said that while only 4 Indian cities had metro networks in 2014, now over 20 cities have the metro connectivity.
"Growth in the number of airports from 70 in 2014 to more than twice that number now and modern trains like Vande Bharat are operating across 25 routes," the PM Modi said.
The Prime Minister said that enhancing ease of living and quality of life are high on the government's agenda and also acknowledged the numerous challenges previously faced by the public, including long queues at hospitals and utility payment centers, difficulties with insurance and pension, and complexities in filing tax returns.
These issues, he said, have been addressed by the Digital India initiative, which has simplified mobile banking, tax filing, and other services.
The new Hirasar International Airport, featuring a 3,040 metre-long and 45-meter-wide runway is capable of accommodating 14 aircraft simultaneously.
It was first conceptualised in 2017 when the Prime Minister conducted the ground-breaking ceremony.