Football in India to be the Game Changer within 20 Yrs
BILKULONLINE
Ahmedabad, August 1: "Football will be a game changer in society after 20 years and it will be equal to Cricket in India," said  Parimal Nathwani. He was addressing Gujarat State Football Association (GSFA)'s 45th Annual General Meeting (AGM) at Ahmedabad today.
The GSFA of which  Nathwani is the president, has received a major boost from the corporate world in Gujarat. Along with Reliance Industries Ltd (RIL), which has been supporting the football body for long, other corporate majors like Adani Group, Torrent Group, and Zydus Group, have come forward to support the cause of football in the State. The announcement of corporate majors' support was made during the 45th Annual General Meeting (AGM) of GSFA today at Ahmedabad by Rajya Sabha MP and Director of Corporate Affairs at RIL  Parimal Nathwani, who is also the president of the GSFA.
Under the leadership of  Parimal Nathwani at the helm, GSFA has been working relentlessly for the development of football at the grassroots level. GSFA takes its pride in the fact that the President of All India Football Federation (AIFF) Shri Kalyan Chaubey is the nominee of GSFA, who won the election 33-1 of AIFF.   Chaubey was included in the executive committee of GSFA as a special invitee.
While Addressing the AGM,  Nathwani appealed to the office-bearers of the district football associations to come forward with their respective performance potential and development plan to take Gujarat football to the next level. "You to us your problems, no issues, but I also want you to come up with your report card; and added that all the district football associations should shortlist the talented players and we would support them at every level. He also said that GSFA is committed to taking Gujarat's football to the level of even IPL cricket type if the district football associations also show equal commitment to the purpose. GSFA can also mull starting a state-level football league on the line of ISL.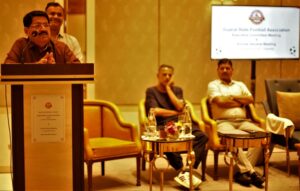 GSFA organized various tournaments during the year 2022-23 like the Reliance Cup, GSFA Senior Men's Inter District Football Tournament, Gujarat State Women's League, Khelo India City League U-17 Girl's at Rajkot, Khelo India City League U-17 Girl's at Bhavnagar, 31st Balram Kshatriya Memorial (U-17) Boys IDFT at Mehsana, GSFA Senior Women's IDFT for Late Gulab Chauhan Memorial Trophy, GSFA U-18 Club Championship, GSFA U-15 Club Championship, GSFA U-13 Club Championship, GSFA Club Championship Senior Men's, GSFA Futsal Club Championship Senior Women's and GSFA Futsal Club Championship Senior Men. GSFA has also signed a Memorandum of Understanding (MoU) with the Sports Authority of Gujarat to develop the game of Football in the state.
GSFA has launched Golden Baby Leagues in districts of Gujarat, which has been renamed as Blue Cubs, for tapping the talent at a young age. "GSFA takes pride in itself on leading the way in nurturing Baby Leagues nationwide, which encourage children aged 6-12 to start playing early. Their primary objective is to identify young talents, foster grassroots development, and enhance the football culture within the State" said  Mulrajsinh Chudasama, Hon.General Secretary of GSFA. In season 2022-23, the District Baby Leagues were organized in Bhavnagar, Dahod, Surendranagar, Morbi, Ahmedabad, Baroda, Rajkot, Surat, Botad, Dwarka, Junagadh, Gir Somnath, Bharuch, Patan. It should be noted that  Shubhangi Singh was selected for the Indian National team for FIFA U-17 Women's World Cup and SAFF U-20 Women's Championship 2023.
The annual general meeting was attended by GSFA office-bearers including Vice Presidents  Arunsingh Rajput,  Hanif Ginwalla, and  Gunvantbhai Delawala, Hon General Secretary  Mulrajsinh Chudasama, Hon. Treasurer  Mayank Buch along with representatives of 33 district football associations affiliated with GSFA.