Kiran Rao's 'Laapataa Ladies' sets TIFF premiere
Mumbai, Aug 11: Director Kiran Rao, who is known for 'Dhobi Ghat', is going to the Toronto International Film Festival with her upcoming release 'Laapataa Ladies' as the film has been selected for screening at the prestigious film festival.
The film is set in the rural India of 2001 and stars Pratibha Ranta and Nitanshi Goel.
The 48th edition of the annual Toronto International Film Festival is set to be held from September 7 to September 17 and will be opened by legendary Japanese director Hayao Miyazaki's anime film 'The Boy and the Heron'.
The official X handle of TIFF shared the update as they tweeted, "Kiran Rao's sophomore romp is heading to #TIFF23."
The World Premiere of LOST LADIES finds two young brides hilariously entwined in a riot of mistaken identities. Set in 2001 in rural India, the film stars @PratibhaRanta and @nitanshi_goel (sic).
Commenting on the occasion, Kiran shared: "I am so delighted that the world premiere of our film, 'Laapataa Ladies' (Lost Ladies) is going to be at the Toronto International Film Festival. I have very fond memories of TIFF. It's such a wonderful audience-driven festival, and I will always remember the warmth and love that we got from them."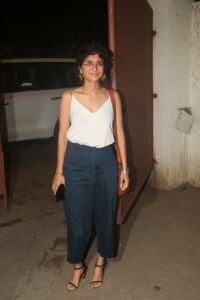 She further mentioned: "I feel very fortunate that my second film, once again produced by Aamir Khan Productions and this time with Jio Studios on board, will also begin its journey there".
Actor-producer Aamir Khan, who has bankrolled the film, said in a system, "Kiran has made a gem of a film which I hope is going to connect strongly with audiences all across. Can't wait for the premiere of our film 'Laapataa Ladies' at TIFF".