Top Leading Real Estate Developer of Delhi-NCR 'Signature Global Ltd announces its IPO
 Price Band fixed at ₹ 366 to ₹ 385 per Equity Share of face value of ₹1 each of SignatureGlobal (India) Limited

Offer will close on Friday, September 22, 2023

Bids can be made for a minimum of 38 Equity Shares and in multiples of 38 Equity Shares thereafter
 BILKULONLINE
Ahmedabad, Sept 15: Signature Global IPO is a main-board IPO. They are going to raise ₹730 Crores via IPO. The issue is priced at ₹366 to ₹385 pr equity share. The IPO is to be listed on BSE & NSE.
The IPO is to open on September 20, 2023 for QIB, NII, and Retail Investors. The investors' portion for QIB is 75%, NII is 15%, and Retail is 10%.
Signature Global IPO size is ₹730 crores. Signature Global IPO allotment date is September 27, 2023. Signature Global IPO listing date is October 4, 2023. The Offer will close on Friday, September 22, 2023.
The Price Band of the Offer has been fixed at ₹ 366 to ₹ 385 per Equity Share. Bids can be made for a minimum of 38 Equity Shares and in multiples of 38 Equity Shares thereafter.
ICICI Securities Limited, Axis Capital Limited & Kotak Mahindra Capital Company Limited are the Book Running Lead Managers to the offer. 
Core Management group of Signature Global including Chairman, Pradeep Aggarwal,  MD, Ravi Aggarwal, Directors – Devender Aggarwal, Lalit Kumar Aggarwal and CEO Rajat Kathuria were all present in Ahmedabad on Friday to announce the details of the company's proposed IPO before the media.
Briefing the details about the company Pradeep Aggarwal said "Signature Global is a well-established brand with a strong presence in Delhi-NCR, and is known for innovative construction technologies, amenities & affordable prices. It is the largest real estate development company in the National Capital Region of Delhi in the affordable and lower mid segment housing in terms of units supplied (in the below ₹ 8 million price category) between 2020 and the three months ended March 31, 2023, with a market share of 19%".
The Company commenced operations in 2014 through its Subsidiary, Signature Builders Private Limited, with the launch of our Solera project on 6.13 acres of land in Gurugram, Haryana. It has grown its operations over the years and in less than a decade, and as of March 31, 2023, it had sold 27,965 residential and commercial units, all within the Delhi NCR region, with an aggregate Saleable Area of 18.90 million square feet. The Company's Sales (net of cancellation) have grown at a compounded annual growth rate of 42.46%, from ₹ 16,902.74 million in Fiscal 2021 to ₹ 34,305.84 million in Fiscal 2023. As of March 31, 2023, it sold 25,089 residential units with an average selling price of ₹ 3.60 million per unit.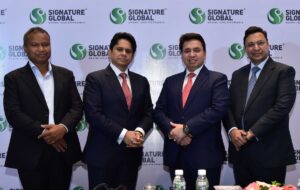 Signature Global (India) adopted an integrated real estate development model, with in-house capabilities and resources to execute projects from inception to completion which enables it to offer projects at competitive prices. Among its core strengths is the Company's ability to efficiently turnaround projects on land that it ties-up and it typically launched projects within a period of 18 months from the date of acquisition of the land. Hafeez Contractor is the Chief Designer and architect of the group.
The Company has an extensive distribution network focused on the customer segments it targets, with 593 channel partners and an in-house team of 41 employees engaged in direct sales and 100 employees for indirect sales, as of March 31, 2023, that has helped to achieve the current scale of offerings. The Company has also been effectively leveraging technology for the sale of inventory. The Company's AHP (Affordable Housing) projects are sold exclusively through digital channels, as mandated by the Directorate of Town and Country Planning, Haryana and since January 2022, its entire project inventory under AHP projects is being exclusively sold online, including on the government website.
The Company's investor base includes IFC and HDFC Capital Advisors who participated in multiple rounds of capital raise undertaken by the Company.