3 Ekka Broke all records – 25Cr plus in 20 days
3 Ekka setting up a new benchmark for the Gujarati Cinema
BILKULONLINE
Ahmedabad, Sept 16: The highly anticipated film "3 Ekka" made its theatrical debut on August 25th, and since then, it has been shattering records at the box office.
This groundbreaking Gujarati production has achieved numerous milestones: it became the first Gujarati film to amass the highest box office collection on its opening day, the first to secure the highest weekend collection, and the first to achieve the highest first-week collection.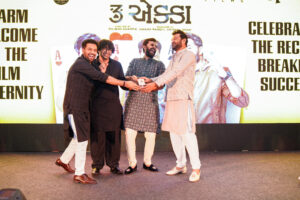 Notably, "3 Ekka" also holds the distinction of becoming the first-ever Gujarati film to reach the remarkable 25 crore mark at the box office within just 20 days of its release. 3 Ekka Broke all records for Gujarati cinema to collect 25Cr plus in 20 days and still counting…
To commemorate this remarkable success, a grand celebration was held today in Ahmedabad, attended by the entire star cast and producers. Producer Anand Pandit expressed his deep passion for contributing to the regional film industry, emphasizing their commitment to not only creating outstanding films but also nurturing the entire ecosystem that supports the regional industry. He praised Vaishal Shah for his exceptional skills as a producer and his adeptness in marketing their films.
Vaishal Shah, who is basking in the glory of the success of "3 Ekka" at the box office, spoke he stated that their mission is not just about entertaining people but also about fostering a robust ecosystem, supporting and encouraging other filmmakers, celebrating the world of entertainment, promoting Gujarati culture and language, and committing to a lasting presence in the industry.
Ever since Anand Pandit and Vaishal Shah announced the Gujarati film "3 Ekka," fans and industry experts alike have been eagerly anticipating what the magical trio of Yash Soni, Malhar Thakar, and Mitra Gadhvi, alongside the film's leading ladies Kinjal Rajpriya, Esha Kansara, and Tarjanee Bhadla, would bring to the screen. The film also boasts the talents of Hitu Kanodiya, Chetan Daiya, and Prem Gadhvi in pivotal roles. Notably, the film's peppy, multi-starrer song of the year, "Tehunk," has added to its charm.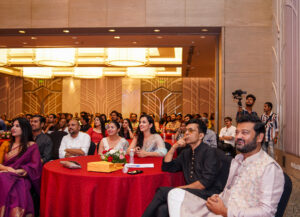 Vaishal Shah concluded by highlighting their remarkable achievement as the first Gujarati film to celebrate success in just 20 days. Despite their triumph, they are in no rush for their next project, as "3 Ekka" continues to enjoy a successful run in over 250 cinemas with 800 daily showings. Their commitment to quality entertainment and their dedication to the audience are evident in this exceptional achievement.