Raghubir Yadav, Seema Pahwa and Jamie Lever starrer family drama YAATRIS visit AHMEDABAD
Raghubir Yadav and Seema Pahwa starrer Yaatris is a heart-warming tale of Family, Emotions, and Adventure, trailer out now!
BILKULONLINE
By Rafat Quadri
Ahmedabad, Sept 28: The trailer of family drama feature film Yaatris starring Raghubir Yadav, Seema Pahwa, Jamie Lever, Anuraag Malhan and Chahatt Khanna has been released. Helmed by director Harish Vyas and producer Kuku Mohanka of Akion Entertainment, the film is set to release on 6th October. 
The film, produced by Kuku Mohanka of Akion Entertainment, has been shot in the picturesque locations of Uttar Pradesh, Bangkok and Pattaya.
On a 'walk the talk' interaction with the media over the beautiful Atal Bridge near the Riverfront Park in Ahmedabad, the theme of 'Yaatris' was discussed.
Veteran actress Seema Pahwa said "due to the stressful lifestyle needs and overuse of   social media by most of the families, irrespective of strata of the society they come from, it was observed that members within a family have hardly any time left to speak to each other. We tend to lose the importance of our relations, love, bonding and forget enjoyment in life. Just like Sunday in a week it is necessary to travel together and relive the moment as a family".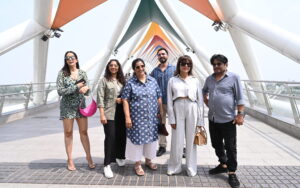 Raghubir Yadav, who has left excellent imprint of acting on the audience said "it is a must for every family to go together on a travel, which solves many issues on its own and infuses love and joy."
Touted to be a heart-warming tale of Family, Emotions, and Adventure", it shows an incredible journey of a middle class family taking trip to Bangkok. In the film, Raghubir Yadav and Seema Pahwa will be essaying a quintessential father and mother to son and daughter duo played by Anuraag Malhan and Jamie Lever, along with Chahatt Khanna in a prominent Character. 
Producer Kuku Mohanka of Akion Entertainment stated, "I truly believe in the vision of this film because the story has that potential to resonate with audiences seeking relatable narratives. It's going to be an unexpected delight for moviegoers. "Yaatris" artfully mirrors this sentiment, offering a relatable narrative that strikes a chord with audiences from all walks of life. The collaborative effort of the creative minds behind the film, brought the concept to life."
Director Harish Vyas shared, "Inspired by the notion that sometimes distance can bring us closer, the film takes us on a journey of emotions, laughter, and cherished values. I had an incredible time working with such a talented and vibrant team. Raghubir Sir's beautiful singing, Seema Ji's fascinating stories, Jamie's infectious laughter, and Anuraag's party spirit added a lot of joy and camaraderie to the set."
Set in the bylanes of Banaras and Thailand, the narrative of the film revolves around the Sharma family, a relatable middle-class household from Mathura. As they embark on an unforgettable adventure, they immerse themselves in a delightful blend of love, humour, and valuable life experiences. This heartwarming tale beautifully captures the essence of unity and togetherness. 
Renowned actor Raghubir Yadav leads the pack, bringing his impeccable acting skills to the forefront. Seema, Jamie, and Anuraag further enrich the narrative with their performances, infusing life into their respective characters. The chemistry and camaraderie among the cast members add authenticity to the tale, making it all the more relatable.
Producer Kuku Mohanka said: "Combining available resources with my long interest – getting into the film business was a natural choice. It's so rewarding seeing something grow from a germ of an idea, to the big screen. 'When I'm making the film, I'm the audience'. I am sure our maiden production, 'Yaatris' with its heartwarming storyline and fabulous performances will take audiences to the era of feel good family films, made by masters such as Hrishikesh Mukherjee among others."
( Rafat Quadri can be reached at editorbilkul@gmail.com)