Magnificient 86th Kalibari Durga Puja 2023 to start from Oct 19
Five-day fest in Ahmedabad attracts thousands of Bengalis
and non-Bengali devotees
Bengal Cultural Association organises devotion along with cultural manifestations
BILKULONLINE
By Rafat Quadri
Ahmedabad, Oct 14: Elaborate arrangements have been made for Grand Celebrations of 86th Kalibari Durga Puja Celebrations -2023 in Ahmedabad.
 Impressively organised by the Bengal Cultural Association (BCA), Bengali community of Gujarat eagerly looks forward to witness these festive days.
Devotion, passion and enthusiasm filled Durga Puja festivities are celebrated in style and grandeur.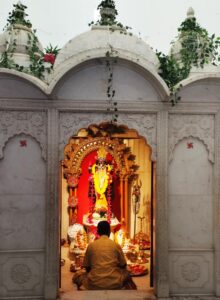 For over 85 Years, BCA has grown in strength through the decades, earning a pre-eminent position in Ahmedabad and amongst the entire Gujarati diaspora. Today, more than 1500 Bengali member families from all walks of life, living, studying, working and contributing to nation-building in and across Gujarat – Ahmedabad are part of the BCA family and they actively participate in our activities and celebrations. Aside from organizing cultural celebrations such as Durga Puja, Kali Puja, BCA actively participates in broader community outreach events for members to mingle and interact with the wider Bengali section.
Atanu Chakraborty, IAS, is the Emeritus Chairman; S N Chakraborty the Chairman & Managing Trustee, Jyoti Bhattacharya the President and Anal Mukherjee is the Hon General Secretary of the BCA. 

S N Chakraborty  reiterated that "These 6 days of Puja celebrations is a time of immense joy, cultural pride, and devotion for Bengalis, and it brings people of all backgrounds together to celebrate this significant festival. The specific customs and traditions may vary from region to region and from one community to another, but the essence of Durga Puja remains the same—reverence for the divine mother and the triumph of good over evil".
"We are glad to have artists of Bengal coming to perform folk music and dance besides lot of other cultural attractive programmes during the span of the Durga Puja festivities. A book exhibition from Bengal will also be here so that our members can get their choicest books and magazines in Bengali" added Chakraborty.   
Priyanka Roy and Saurin Basu of the Event Management Committee for the special event briefed the media.
Anal Mukherjee, Hon. General Secretary of BCA, stated that "As we celebrate 86 years as a strong association, it is essential to reflect on the past and thank all the past Managing Committees for their hard work and the long list of achievements. On behalf of the current Committee, I can promise you that we will do our best to continue to strive for excellence and push forward with all the projects that were started last year, for the greater good of our community. We look forward to greater member involvement through e-participation for various activities as well as an advisory board with some of our senior members. And we also invite more and more Sponsors and Donors to actively participate with us for the Celebrations of the 86th Durga Pujas as well as for preserving the Bengali Culture & Heritage which we wish embark upon by announcing the near completion of our Kalibari Community Centre which was conceptualized in Year 2018, construction began last year and hopefully by early next year we would be ready to dedicate it to the community."
Sharing about the forthcoming 86th Durga Puja Celebrations, the BCA Durga Puja Committee informed about the Durga Puja highlights as follows:
Special Gratitude to Sponsors and Donors like Adani Enterprises Pvt Ltd, Adani Wilmar, PSP Projects Limited, Goyal and company construction Pvt ltd, SSBI Export Pvt Limited, Crest Specialty Resins Pvt Ltd, Winners Business Link Pvt. Ltd., Deemrolls Pvt Ltd, Manubhai Zaveri, Ratilal Khimjibhai Patel & Family, Trackon Couriers Pvt Ltd & AIB Management Solution Pvt Ltd for their regular support during the Puja arrangements.
Renowned artists have been booked for the Cultural Showcase. Special Artists to be flown in from Kolkatta during the Pujas.  Rajudas Boul,  Ishan Mitra and  Utpal are the special invites this year.

BCA plans to give a strong platform and groom, Young talented Bengali artists of the city in areas of Dance, Singing, Drama and Literature. The soon to be completed Kalibari Community Hall to designate special areas and classes for the renaissance of Bengali Culture in the State.

Elaborate arrangements have been made for Puja Pandals, Idol Worship, Prayers and Rituals, Cultural Programs, Food stalls. Over 100kgs of Flowers ordered for the 5day pujas.

Special facilities for Elderly and Senior Devotees : Special arrangement during Bhog for them, Multiple Golf Carts to help them ply during the Puja Pandal, Health Checkup Camp for the Elderly

Bhog arrangements for more than 8000 devotees on special puja days

More than 50 stall of various cuisines for food lovers across all categories.

Special Parking arrangements for Food Stall Owners and giving them all support

Quiz Music, Special Competitions and Live Testimonials to be organized at the Puja Pandals to ensure Fun, Frolic and Personalized touch.

Coverage opportunities of "Aarti" (offering of light to the deity), "Dhunuchi Naach" (a traditional dance with earthen pots filled with incense), and "Pushpanjali" (offering of flowers) & "Sindur Khela"

Proper arrangements for Media Friends to enjoy the Pujos with guided tours