MICA partners with Ormax media to introduce a course on 'media platforms analytics'
BILKULONLINE
Ahmedabad, Oct 17: Tapping India's evolving content business, including India's OTT growth story, MICA, Ahmedabad, India's premier B-school for Strategic Marketing and Communications, has launched a specialized course titled 'Media Platforms Analytics', in partnership with media insights & analytics firm Ormax Media, who are pioneers in media research, analytics & forecasting in India.
The course will equip students with an understanding of various aspects of media analytics, audience engagement, and how to measure and analyse data to build a successful media platform. The course, conducted by media professionals at Ormax Media, will cover streaming, theatrical and television domains.
Dr. Shailendra Raj Mehta, President & Director, MICA, said, "India's media and entertainment industry has grown at an unprecedented rate. To remain ahead of the curve, we at MICA continuously engage with academic advisors and industry stakeholders to identify gaps and translate them into specialized courses. I am confident that this new course will equip our MEM area students with the right knowledge and skill sets to advance the industry's growth".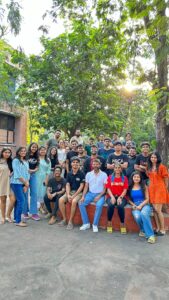 Around 50 second-year students from the Media and Entertainment Management (MEM) specialization will be exposed to a 360-degree approach to planning, applicable to multiple functions like content, marketing, revenue, distribution, engagement, and more, across the three domains mentioned above.
Shailesh Kapoor, Founder & CEO, Ormax Media, said: "It has been our constant endeavor to create more awareness about the role and importance of data and analytics in the Indian Media and Entertainment industry. Our association with MICA is an important step in this direction. We hope to prepare students of this course for their entry into the industry by educating them on the practical application of analytics in the business. Ormax Media's association with MICA has been a long- standing one, with several alumni being a part of our team. This association will further strengthen this relationship".
Dr. Githa Heggde, Dean, MICA, said, "Our pedagogical approach, which combines live industry projects, immersive experiences, and real-world case studies, ensures that MICAns gain the necessary exposure and skills. Our advisory board, comprising industry experts, plays a crucial role in shaping our curriculum to align with industry demands. Moreover, we value the feedback provided by our student mentors post-internships and industry immersions. While MICA's forte remains in communication and marketing, our industry-driven courses are set to empower our students with robust data science and analytical capabilities."
Delving deep, Prof. Santosh Patra, Head of Media and Entertainment Management Area at MICA, shared, "Analytics is core for any business in today's modern data-rich world. Though analytics as a subject has always been part of our curriculum, there was a requirement for sectoral and advanced analytics in specialised courses like media, entertainment, and sports business. We realised that students needed to understand the consumer journey, consumption habits, and sectoral growth in these industries. We are glad to partner with Ormax Media to co-design, deliver, and evaluate the course."
The course will be delivered through case studies, real-world examples, gamification and hands-on learning experiences and help the students look at various data sources and extract insights from large databases to arrive at a platform strategy.