RRU pays homage to police personnel on 'Police Commemoration Day'
BILKULONLINE
Gandhinagar, Oct 22: On the occasion of the 'Police Commemoration Day' Vice-Chancellor of Rashtriya Raksha University, Prof. (Dr.) Bimal N Patel along with Staff, Faculty Members and Students led the way in paying tribute to the martyrs of Police and CAPF at the Rashtriya Raksha University.
Police Commemoration Day is observed annually to mark the martyrdom of 10 Central Reserve Police Force (CRPF) personnel who valiantly fought against Chinese forces in 1959 at Hot Springs in Ladakh. At the Rashtriya Raksha University Police Commemoration Day was observed by paying floral tributes and reading out names of each and every Police and CAPF personnel who attained martyrdom in the previous one year in the line of duty.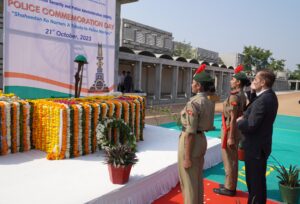 This day holds immense significance as, on this day, the entire Nation pays tribute to the dedication of police officers and their unwavering commitment in maintaining law and order. As our Prime Minister Shri Narendra Modi said on Police Commemoration Day, "I pay my homage to all police personnel, who had laid down their lives in the line of duty" at the Rashtriya Raksha University too, along with paying homage to the martyred Police Personnel, young students were made aware of the sacrifices of the Police and CAPF personnel and their families, in keeping society safe and secure.
It may be recalled that that, the Government of India has taken several initiatives for advancement of police forces. Apart from equipping the forces with the latest equipment, number of initiatives are being taken to enhance the capacity, capability and training standards of the Police and CAPF.  The School of Internal Security and Police Administration at Rashtriya Raksha University is one of the flagship Schools at the RRU which is working relentlessly with the State Police Forces and CAPF in achieving the above said tasks.