Mrinal Dutt shines through his paintings
Presently Mrinal's two paintings are on display and sale at 'Art Decade' show — at Samara Art Gallery, Ahmedabad
BILKULONLINE
By Rafat Quadri
 Ahmedabad, Oct 29 : It is said that 'creativity takes courage' which goes right for the contemporary artist and young Bengali engineer whose home is Gujarat now. While he was a qualified engineer and had a job on hand, he chased his passion and pursued his career as an artist.
Meet Mrinal Dutt, 32, an electric engineer by education and a contemporary artist by profession now.
When other youngsters used to spend time on other engagements and entertainments during the study period, Mrinal chose to scribble, play with brushes and engage with canvass.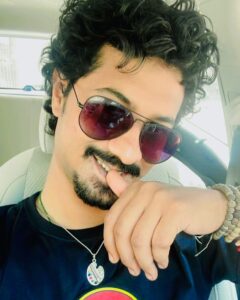 No wonder, today he has already been making waves due to his creative art work, which inspires, liked by and appreciated by art lovers across the nation and beyond. 
Already having over 300 paintings to his credit, this Taurus artist possesses all virtues of prominence in the field of painting. He is curious, notices the details, visualises, absorbs, observes, keeps an open-mind and uses his ability and skill to create the master pieces as his admirers call it.
Mrinal's mom was a teacher and dad a banker and he heard several mythological stories from his elders during his childhood which have had a great impact on his early paintings.
Currently, Mrinal's two paintings are part of the 'Art Decade' show — a ten year celebration of Samara Art Gallery (founded by eminent sculptor and author Sonal Ambani). Mrinal's paintings are titled as 'Parikrama' and 'Matsyavatar'.
Mrinal is a self-taught artist.  He attributes his foundation inspiration to the art to 'Sir M F Hussain'. He marched on his artistic journey with learning simple sketches. He believes the famous quote ''being an artist we have a power to see the world differently".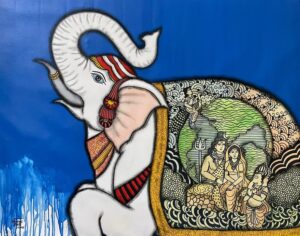 ''Sketching is everything to me. In terms of colors I like black color the most and choose earthy colours in my painting. I am inspired from day to day life and draw many paintings of architecture, abstract. I portray my imagination through various mediums'' explains Mrinal.
One notices his worship of the Mother Goddess in his works. Female forms form the highlight of many of Mrinal's paintings, as he says ''A woman is the centre, the creator and the preserver of the universe''.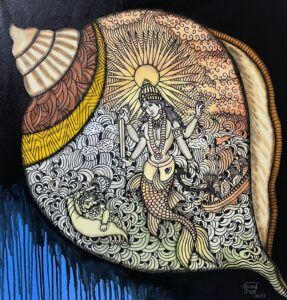 Mrinal's unique style of dripping paints has caught the eye of the discerning collectors the world over. All paintings narrate their own stories and can easily be recognized as being the works of Mrinal Dutt.
Mrinal has exhibited his work in most cities and in art festivals over the world. He has many achievements and accolades to his credit including the prestigious Lalit Kala Academy Award for his work. He has participated in many art exhibitions and has successfully organised solo shows of his art in many cities of India and abroad. His paintings are collectibles for his fans while at places it is auctioned.
(Rafat Quadri can be contacted at editorbilkul@gmail.com)