ASK Automotive IPO to open on November 7 & close on 9
ASK Automotive – Driving Safety through Innovation
BILKULONLINE
Ahmedabad, Nov 4: Founded in 1988, ASK Automotive is delivering high level of safety, precision and quality. Delivering Advanced Braking System, Aluminium Lightweight Precision.
Kuldip Singh Rathee is the Chairman and Managing Director on our Board. He is also one of the Promoters and a founder of our company. He holds a bachelor's degree in arts from University of Delhi, New Delhi. Announcing the details of its upcoming IPO the company's Rathee who was in Ahmedabad on Friday said " Our setup for Aluminium Lightweighting Precision Solutions, starting from die casting to critical machining, paint shop, and critical assemblies have further strengthened our clients' belief in our ability to deliver the products in the market. It has made us the leader in two-wheeler Advanced Braking Systems across the OEM, OES, and aftermarket. It has also led us to gain the trust and work with some of the OEMs in the Safety Control Cable division".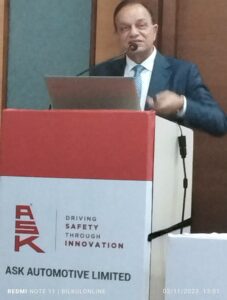 "ASK Automotive is proud to be a part of the 'Make in India' initiative, by the Government of India with exports to 12 countries around the world. Our manufacturing facilities are accredited on quality and safety with world-class certifications like IATF 16949:2016, ISO 9001:2015, ISO 14001:2015, ISO 45001:2018″ adds Rathee.
The ₹834-crore initial public offering (IPO) of auto parts manufacturer ASK Automotive is set to be open for public subscription from November 7 to November 9. The company has fixed a price range of ₹268 to ₹282 per share.
ASK Automotive IPO is a book built issue of Rs 834.00 crores. The issue comprises of fresh issue of Rs 834.00 crore and offer for sale of 2.96 crore shares.
The offer for sale (OFS) portion of the IPO of ASK Automotive Ltd comprises the sale of 2,95,71,390 shares (295.71 lakh shares approximately), which at the upper price band of ₹282 per share will translate into an offer for sale (OFS) size of ₹833.91 crore. The OFS selling will be by the promoter shareholders.

ASK Automotive Private Limited is a Non-govt company, incorporated on 18 Jan, 1988. It is a manufacturer of Advance Braking Systems for two-wheelers in India. It's a private unlisted company and is classified as 'company limited by shares'. The basic objective of getting listed is according to Rathee is to garner more trustworthiness and horizon as they are marching for a whopping export brick by brick. Else, the company led by Rathee has been consistent in growth and has been ploughing back its profits into the business for quite long time.
The company ethics according to Rathee revolve around perfection and growth of the business by performing steadily within edge over others for today and tomorrow. They have as per records had longest business relations with their associates, suppliers and entire business partner structure within India and abroad.
Company's authorized capital stands at Rs 1200.0 lakhs and has 74.117744% paid-up capital which is Rs 889.41 lakhs. ASK Automotive Private Limited last annual general meet (AGM) happened on 29 Sep, 2017. The company last updated its financials on 31 Mar, 2017 as per Ministry of Corporate Affairs (MCA).
ASK Automotive Private Limited is majorly in Manufacturing (Machinery & Equipments) business from last 35 years and currently, company operations are active. Current board members & directors are Kuldeep Singh Rathee,Prashant Rathee, Vijay Rathee, Rajani Sharma, Jani Sharma and Anand Kumar Bhardwaj.
Registered at Delhi, Ask Automotive with a network of 17 Plants located at strategic locations across India, the company has its own Research & Development and Design facilities. Ask Automotive Pvt Ltd in Detroj, Ahmedabad is known to satisfactorily cater to the demands of its customer base with a strong over 1000 staff.
Jm Financial Limited, Axis Capital Limited, ICICI Securities Limited and Iifl Securities Ltd are the book running lead managers of the ASK Automotive IPO, while Link Intime India Private Ltd is the registrar for the issue.
Disclaimer:
Investment/Trading in securities Market is subject to market risk, past performance is not a guarantee of future performance.  Kindly go through the details of the offer before investing.