8th edition of Ahmedabad International Literature Festival to be held on Nov 24, 25 & 26
Book Launches, Gujarati, Hindi, Urdu and English Poetry recitation along with plays and classical dance performances will keep the audience spell-bound throughout for three days at AILF
BILKULONLINE
By Rafat Quadri
Ahmedabad, Nov 20: Wait for the celebrated literature festival of Ahmedabad 'Ahmedabad International Literature Festival' (AILF) is over.
Umashanker Yadav, founder director of the AILF announced the event's dates to be on November 24, 25 and 26 at the scenic venue, Centre for Environment Education, Thaltej Tekra, Ahmedabad. It is organized by the IKON Education Foundation.
Book Launches, Gujarati, Hindi, Urdu and English Poetry recitation along with plays and classical dance performances at the AILF  will keep the audience spell-bound throughout for three days.
 Speaking to BILKULONLINE, Yadav said "The AILF seeks to promote the passion for all facets of literature, particularly among children and young adults, with a focus on open discourse, the art of storytelling, engaging panel discussions on relevant topics and celebrating the written as well as spoken word".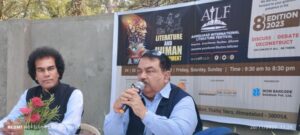 AILF's objectives are to promote literacy, literature and bring together experts in the field and also importantly it offers a platform to the emerging writers, publishers, journalists, academics, readers and students from all over India and abroad. It played an instrumental role in determining the link between Gujarati, Indian and international literature.
Theme of this year's AILF is 'Literature and Human Development' , to be inaugurated by Dr. Justice KJ Thaker, Hon. Chairperson of Gujarat State Human Rights Commission with Dr. SK Nanda, IAS (Retd.) author, columnist and former home secretary of Gujarat along with renowned actor and poet  Akhilendra Mishra and founder director of the festival Umashanker Yadav.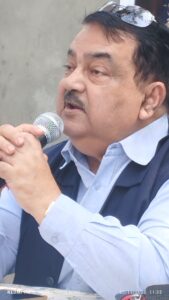 Over 100 speakers from different walks of life from all over India and abroad will be participating in different panel discussions, performances, plays and poetry recitations. Book launches and classical dances will also feature during the three days of literary festivities.
Prominent speakers include film actors Rajendra Gupta, Yashpal Sharma and Akhilendra Mishra. Journalists Mayank Shekhar, Dr. Shirish Kashikar, Jyoti Yadav, young lyricist Dr. Sagar and best-selling Hindi authors journalist Shirish Khare, Dr. Heera Lal IAS and Kumud Verma will be participating in the event.
Prince of erstwhile Rajpipla state, Manvendra Sinh Gohil renowned neurologist Padma Shri Dr. Sudhir V. Shah, literary agent and writer Preeti Gill, Prof. KB Veio Pou of North East and student writers and authors from African countries and Bangladesh will also share their views on different subjects.
Mentor of the festival, Dr. SK Nanda, IAS (Retd.) is all set to add his rich experience as a vivid reader, inspiring administrator and a visionary.
Dr Nanda is known and credited for various firsts that set the trends of modern and rich state of Gujarat while addressing the media about the AILF said "looking at the degrading human values across the globe, we decided to explore the role of literature in the human development through this edition. Different topics like the role of creative industries and schools, mental health, feminist writings, partition literature, North East literature, world literature, Children's literature, social projects and poetry sessions have been designed to understand and discuss the role of literature and the necessity of developing the humans into bigger human beings with wider perspectives, inclusivity, compassion and the sense of belongingness among the human race".
Dr Nanda emphasised that "Through the AILF, we wish to carve a new identity of Ahmedabad as a city of learning. It is otherwise generally known as a city of opportunity and shopping. We are glad to see several established artists and authors show casing their talent while there are new talents and the emerging writers who have grown and went on to establish themselves as successful artists and writers. I am happy to see atleast seven such Gujarat's women becoming authors in the past seven years." 
"Interestingly, we are glad to also have the students of many schools, colleges and universities of Ahmedabad who are enthusiastically participating through their principals, teachers and students as moderators, speakers, performers and volunteers in this edition which is first of its kind for this festival" added Yadav.
(Rafat Quadri can be contacted at editorbilkul@gmail.com)