Ahmedabad Sunni Muslim Waqf Committee releases 'Waqf Guide'
   

ASMWC  felicitates 48 Corona Warriors of Ahmedabad 
Ahmedabad, Dec 5: A function to release a book on the Waqf Act and Rules and also to felicitate 48 'Corona Warriors' was organised by the Ahmedabad Sunni Muslim Waqf Committee (ASMWC) at the committee's headquarters on the Salapose Road in Ahmedabad on Sunday (December 5, 2021) morning. 
AI Shaikh, Chairman, Gujarat State Waqf Tribunal, Gandhinagar, the Chief Guest at the function, said the book would greatly help all the trusts across the state. 
Speaking as the Guest of Honour, Usman Patel, Deputy Secretary, Sports, Youth and Cultural Activities, Gujarat Government said, "We had felt a need for such a book for a long time, and this book would go a long way in guiding people." 
The 204-page book in Gujarati and English languages is jointly written by former secretary of the ASMWC Altaf Husain Saiyed and Advocate Mohammed Iqbal Kagdi.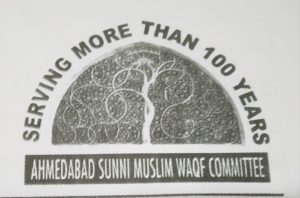 "We have tried to write the book in easy-to-understand language and the FAQ (Frequently Asked Questions) format," Altaf Hussain Saiyed said.  "We are also planning an exhaustive second edition of the book," he said, adding, "The book will bring awareness amongst people in general and the Muslim community in particular.
At the function, 48 'Corona Warriors' from the police force, doctors, social workers, and journalists were felicitated for their role during the Covid-19 pandemic. They were given away framed certificates and mementoes. 
Another guest of honour, Chandrikaben Sanghani, Chairperson of the Gujarat Child Welfare Committee, said the move to felicitate 'Corona Warriors' cutting across caste, community and creed was a very welcome move. 
ASMWC trustee Rizwan Quadri gave details about the different activities being carried out by the ASMWC. 
Nigar Sheikh, a young engineer from CEPT (Centre for Environment Planning and Technology), gave details about the 'Tankshaal Pole' mosque, a unique heritage mosque in the Kalupur area of Ahmedabad. "We are working with ASMWC for the restoration of this mosque which is the only one of its kind to have been constructed using a wooden frame," she said. 
ASMWC President Zahir-ul- Hasan Saiyed gave the welcome address, and trustee Bada Sahab Saiyed proposed a vote of thanks.  
Earlier, children of the orphanage run by the ASMWC recited verses from the Holy Quran and rendered the Naat Sharif.