GCS Ahmedabad hospital performs 'rare' surgery
Rarest of the rare case – Unusual heart disease at a young age – The doctors of GCS Hospital gave a new life through a unique surgery
BILKULONLINE
Ahmedabad, Oct 14: For Dipika Patel, 39 wife of  Umeshbhai Patel a farmer of Valsad, it is a new birth. She gives the credit of it to the team of  Cardiologists at GCS Hospital who performed a unique complex surgery that involved opening of blocked heart arteries and the closing of an extra vessel simultaneously on Dipika.
Deepika had a tough time running from post to pillar with her husband and limited funds to find out what was happenign in her body that made her live a miserable life. Finally as she reached the GCS hospital, she was diagnosed with a unusual heart diseases.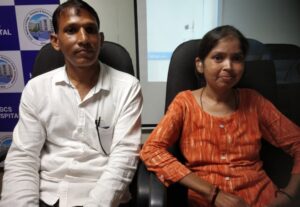 It was a tough decision but she agreed to go for it, for a surgery which was unique for the doctors who claim it to be the 'rarest of the rae' before the media persons. Management and Doctors of GCS hospital are awaiting the acknowledgement from international medical journals .
Thus, Dipika who is mother to Yuti, 17 was treated for  first-of-its-kind heart procedure on a female patient wherein the opening of a blocked heart arteries and closing of an extra vessel were undertaken simultaneously.
Earlier, Dipika was suffering from arthritis and was under its medication for last three years. But, she started having severe swelling on her body, accompanied by difficulty in breathing and fast and loud heartbeat. She visited several hospitals in Valsad and Mumbai but there wasn't any improvement in her condition. She was referred to Dr. Roopesh Singhal, Consultant Interventional Cardiologist at GCS Hospital, who decided to treat Dipika's Edema first.  After initial treatment an angiography to evaluate Dipika's heart condition revealed an extra vessel arising from the left main coronary artery that was diverting oxygenated blood to the right atrium. "There was also a blockage in the two main heart arteries arising from the left main coronary artery. Because of this diversion and the blockage in coronary arteries; the heart couldn't get enough blood supply leading to strain in the pumping function. Her previous history of arthritis meant that she was not fit for the open-heart surgery, further complicating the matter" said Dr Roopoesh Singhal who was the head of the treating team.
After a lot of consideration, the team of interventional cardiologists – Dr. Roopesh Singhal, Dr. Zeeshan Mansuri, and Dr. Jit Brahmbhatt came up with the idea to perform a minimally invasive surgery but with a novel approach. A small puncture was made in the leg vessel and a special device called Amplatzer vascular plug to close the extra vessel was inserted through the femoral artery. Angioplasty was performed on the patient by inserting a balloon and stent from the same puncture to open the severely diseased artery.

"This was rare procedure to open the blocked heart artery and close the extra vessel from the left main coronary artery were done simultaneously through the same minor incision. The surgery may seem to be simple but there was great risk involved. We managed to perform the surgery successfully due to meticulous planning and careful execution by the entire cardiology team and support staff," said Dr. Singhal. 
A happy Dipika says "Doctor Sahib has brought me back from the brink of death. Despite traveling to so many places and spending so much money, the doctors and staff of GCS Hospital have done it free of cost under the Ayushman scheme. Now I don't even have trouble breathing and heartbeat is normal too"
Her husband Umeshbhai joins her saying "I am glad that my wife has recovered, I will support her all the life and would take care of her so that she lives a healthy life. Our days of agony and despair seem to be over now."
Deepika was hospitalised for eleven days . 
Situated in the Eastern Ahmedabad, GCS Hospital is a NABH Accredited 750-bed Multi-Speciality Hospital offering a spectrum of services – all medical and surgical care under one roof. GCS Hospital today serves patients from all walks of life at nominal cost with the highest standard of services. GCS Hospital is empanelled with Ayushman Bharat (AB PM-JAY Yojana) to provide free treatment in all specialities.  Dr Kirti Patel is the Director of the GCS hospital, while, Dr. Yogendra S Modi is the Dean.