Renowned legal expert Naresh Gehi opens up on safe Indo-US investment opportunities
Gehi warns Gujarat people to not fall into the trap of  misleading 'brokers & agents offering Green Card consultancy' and instead seek legal experts' assistance
          Gehi addressed an open forum at AMA which was attended by businessmen and young entrepreneurs 
Ahmedabad, Jan 11:  Globally renowned  legal experts Naresh M. Gehi  lambasted at the 'mushrooming agents and brokers' in Gujarat, Haryana and Punjab who lure innocent people of 'Green Card', Asylum assurance and more.
Most of such people according to Gehi end up losing their hard earned money, precious time and existing business interest. He suggests Indian people aspiring to get American citizenship or start business must follow the right path. There should  be a change into the mind sets to afford solicitors and legal experts for the purpose and stop spending 'cheap' fee by the falsely promising agents and consultants who cheat innocent people in the pretexts of  launching their business office in US, get Green Card for them, get them Asylum cover and more.  
Naresh M Gehi is the Founder & the Principal Attorney of Gehis Immigration & International Legal Services. Attorney Gehi  is the acclaimed writer of "Immigration for Everyone". He has also represented high- profile Bollywood celebrities as his clients and has fought and settled a case against Trump Model Management. He has even served in the finance team of the former first lady and former presidential candidate Hillary Clinton, leading him to receive several awards from the NY State Senate and members of Congress. His knowledge on immigration law, political asylum, community and immigrants' rights has made him an authority on the same.
In an hour long lecture,  Gehi shared his views on 'How to obtain Green Card through the Investor Visa Program (EB -5), the direct investment under the EB-5 Visa Program, Current issues pending under the Regional Centre Program'.  Topics like B1/B2 visa program updates under the current Biden Administration were also discussed by him. Family based Immigration to the United States and movement in Visa bulletin was also explained by Gehi with his recommendations and suggestions related to crucial pointers like what are the  alternative ways to get Green Card in the US through EB 1 Category and more.
Naresh Gehi while addressing an open forum at AMA in Ahmedabad answered several queries of media representatives and businessmen who attended the talk with great interest.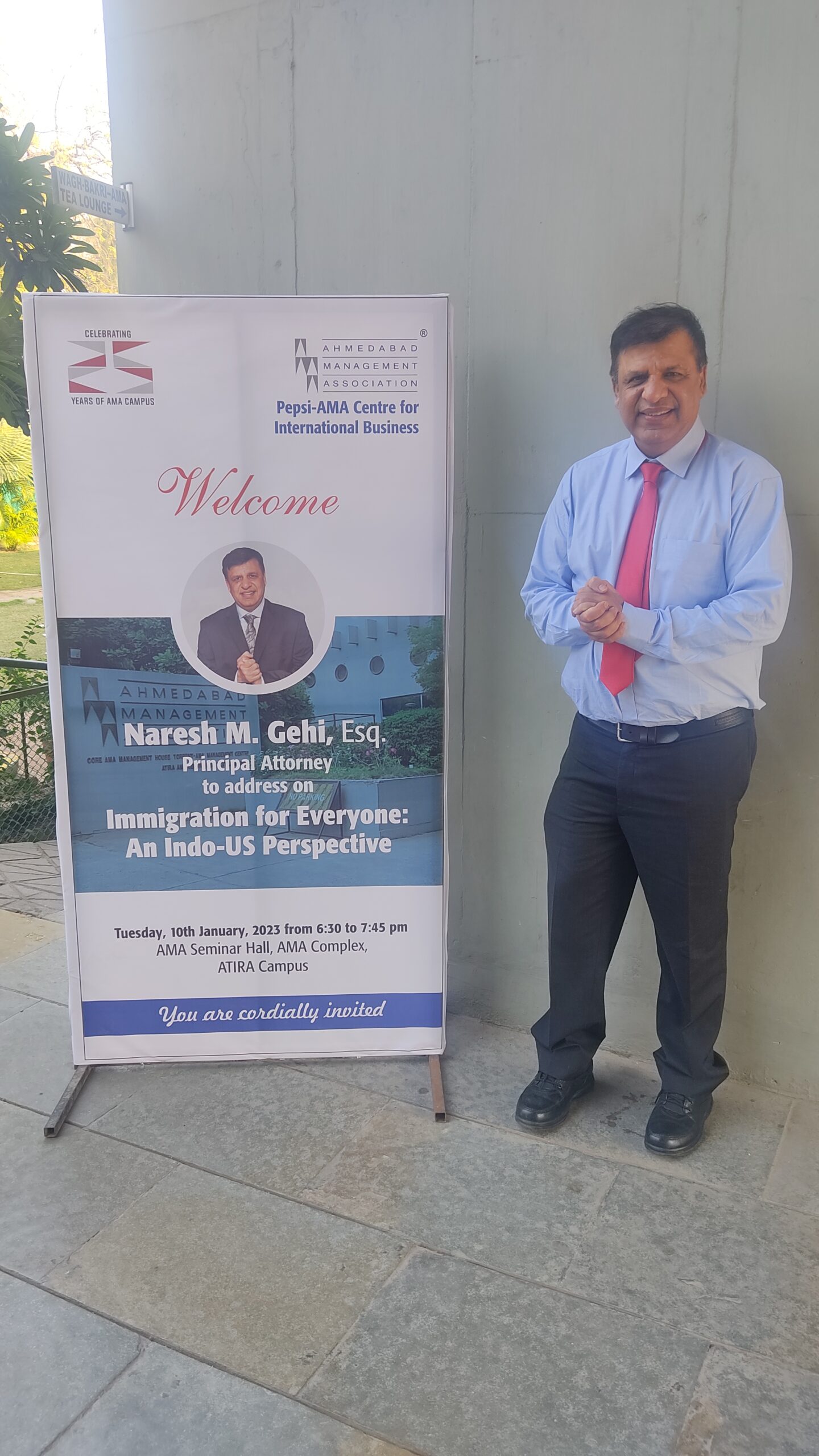 Gehi enlightened the  audience about the steps to be undertaken if a case is stuck before the American Consulate and how to start branch offices for Indian Companies through L1A and L1B Visas. An interesting talk also took place on that Actors, Entertainers or Performers who are in the Film and Media Sector have some interesting opportunities available for seeking opportunities in America and what are the possible ways.
More than a hundred entrepreneurs attend the Open Forum Session and felt info rich after they listened to the meaningful address of Gehi on the topic 'safe and legal Indo-US Immigration and safeguarded Investment opportunities'..