TOP FM invites nominations for "Top Music Awards Season-2"
Ahmedabad, Jan 11: Top FM has announced the Top Music Awards Season-2  inviting nominations under two prominent categories of  music. Top FM is the fast growing household name in Gujarati music promotion. 
The jury for Top Music Awards Season-2 includes Saumil Munshi (Musician), Shyamal Munshi (Musician), Sandeep Patel (Film Director), Rajeev Bhatt (Musician), Mukesh Malvankar (Lyricist and Writer) and Sachin Limaye (Singer).  
Famous Musician Shyamal Munshi explained that "criteria for the nominations is primarily any song released in the Gujarati language during the period from i.e. 1st January, 2022 to 31st December, 2022 is eligible to be nominated. Top Music Award  Season-2 function is going to be held on March 4, 2023".
Payal Vyas, Programme Head of Top FM Gujarati narrated the journey of Gujarati music and the season-1 awards celeberation and its success before the media . She informed that the Season-2 entries can be registered till 10th February, 2023″ on topmusicawardsguj@gmail.com 
The Nomination Categories are as under:
Films:
Best Play Back Singer Male
Best Play Back Singer Female  
Best Programming and Arranging  
Best Song Mixing of the Year
Most Popular Independent Song of the Year
Best Lyricist Independent Music  
Best Composer Independent Music
Best Experimental Music – Independent  
Critic's Choice- Independent Song of the Year  
Best OTT Song of the Year
Best Devotional Song of the Year
Best Recreated Garba/Song of the year  
Best Original Garba/Song of the year
Best Video Song of the Year  
Lifetime Achievement Award
Sandeep Patel, famous Gujarati film director while addressing the media conference emphasised that Top FM  has contributed wonderfully in the promotion of  Gujarati music, specially the youth  are also getting driven through music to their mother tongue."
"Today, the Gujarati film industry is progressing rapidly, wherein music plays an important role. Top FM is thus making Gujarati popular and brining it on  laptops and mobiles of young people, they are writing lyrics, creating music, singing and enjoying it" explained Patel.
Shyamal Munshi with his decades of musical journey congratulated Top FM and attributed its commitment to  Gujarati music which he said is often manifested through its innovative programs centralized around Gujarati music and eagerly awaited Top FM Music Awards. Munshi said that "it is  myth that entertainment means Hindi songs and Bollywood alone. No. Now Gujarati music which has had its own richness is entering the scene. We look forward to wrap in more and more youth and all ages listeners to enjoy and be part of our Gujarati Music and take pride in it while enjoying other music too".
Neeraj Attri the CEO of TOP FM pointed out that they had chosen the tier 2 and 3 cities over tier 1which was a challenging task but they have started getting rewards for it. Basically the idea of introducing the Top FM Music Awards we want to celebrate the  Gujarati music and make it more popular. We want participants who are basically our listeners to be part of our nominations for awards under different categories in relation to their skill and passion exhibited last year."
"We are open to new ideas to promote Gujarati music and want to even link our Leh Laddakh FM station to our far off stations in Gujarat thereby connecting our listeners with culture and music of different places through Gujarati language" Neeraj  added.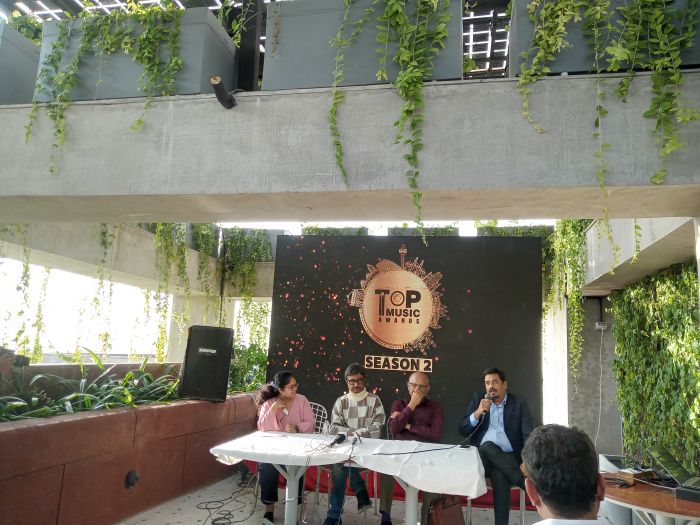 TOP FM is operating in eight different cities of Gujarat and five different cities 0f Jammu and Kashmir since four years. Top FM is committed to the Gujarati music and aspires to take Gujarati music to next level. Last year in March 2022, it successfully launched Top Music Awards, in the presence of Gujarat Chief Minister Bhupendrabhai Patel and Ministers Harsh Sanghviand well known personality Parimal Nathwani.  
The conference announcement was anchored by famous RJ Vikram of Top FM.