NABARD presents 'The State Focus Paper' projects Priority Sector Credit-Potential for Gujarat
NABARD projects Priority Sector Credit-Potential for the State @ Rs.2.98 lakh crore for FY 2023-24
BILKULONLINE
Ahmedabad, Jan 20: Gujarat Chief Minister Bhupendra Patel released 'State Focus Paper 2023-24'  prepared by the National Bank for Agricultural and Rural Development (NABARD) on Thursday.
This annually prepared important document aggregates credit potential for priority sector assessed for  33 districts of Gujarat. The event was held at Narmada Hall, Swarnim Sankul I, Sachivalaya, Gandhinagar in the presence of  Kanubhai M Desai,  Finance Minister,  Bachubhai M. Khabad, Minister of State- Agriculture,   Jagdish I Vishwakarma, Minister of State – Cooperation Department,  Pankaj Kumar, Chief Secretary,  Rajkumar  ACS Home Department,  Mukesh Puri,  ACS Agriculture, Farmers' Welfare and Cooperation Department,  Surender Rana, CGM, SBI and Dr. Gyanendra Mani, Chief General Manager, NABARD Gujarat RO. Besides, the event was also marked by the presence of senior Government Officials, Senior Bankers and Representatives from NGOs.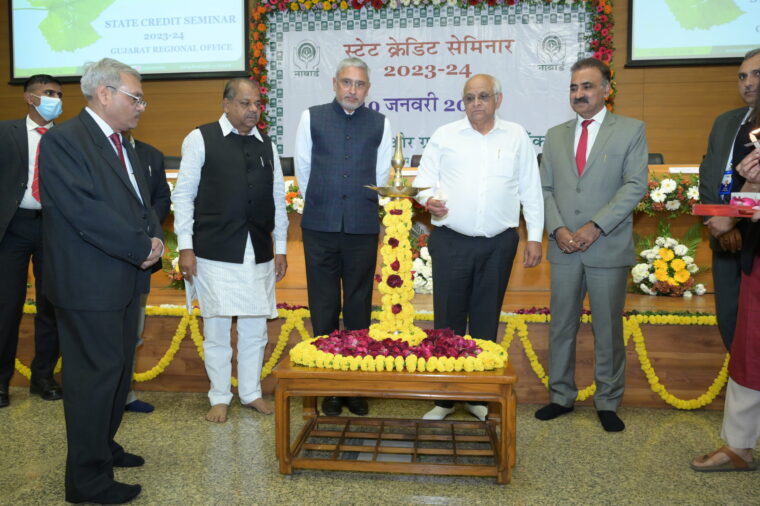 The State Focus Paper prepared by NABARD in consultation with the line departments of State Government, Banks and other key stakeholders serves as the foundation and guiding template for formulation of Annual Credit Plans by the Banks. The document also dwells upon the existing credit-absorption capacity of the identified "priority sectors" and ways in which the same can be augmented through right partnerships and policy interventions.
NABARD has estimated a credit potential of Rs.2.98 lakh crore for the year 2023-24 under the Priority Sector. Out of this, agriculture and allied sector accounts for Rs.1.28 lakh crore (43%), MSME sector accounts for Rs.1.41 lakh crore (47%) and other priority sector accounts for Rs.0.29 lakh crore (10%).
Chief Minister, while releasing the Gujarat State Focus Paper 2023-24, commended the efforts of NABARD in preparing a well-researched document dedicated to the idea of enabling growth of priority-sector credit in the State. He mentioned that Government is working relentlessly to reach the poorest of the poor of the Society and bring them to the mainstream.  He exhorted bankers to help the fisheries and dairy farmers of the State by providing them credit facilities. He assured the Bankers that issues if any, in financing these categories of farmers who cannot provide collateral may be sorted out in consultation with the State Government. He expressed confidence that the concerted efforts of Government, Banks and other Stakeholders shall help the State to achieve the goals set by the Prime Minister for the "Amrut Kal". 
Dr. Gyanendra Mani, CGM Gujarat Regional Office, NABARD speaking on the occasion appreciated the developmental approach of the State Government and termed Gujarat as the "Growth Engine of the Nation". In this context he highlighted the Government of Gujarat's initiative of making Modhera as Country's first village to be Solar-Energy powered, all-day. He highlighted that NABARD Gujarat Regional Office has pioneered the idea of "Model Cooperative Village (MCV) Project", in partnership with Gujarat State Cooperative Bank.
Amit Shah the Minister of Cooperation, launched this project on 10 April 2022, -aimed at improving viability of cooperatives through technological, financial and other such measures. He requested State Government to advise various line departments to adopt 6 villages chosen for the MCV project & leveraging their various interventions in these villages. He stressed on concerted efforts for building other collectives such as FPOs in farm sector and OFPOs in non-farm sector. These collectives help the small and marginal farmers, weavers, artisans, etc. to get the benefits of better price discovery for their produce. He also spoke about the skill development interventions of NABARD. He emphasized that due support towards value-chain financing in agriculture, promotion of economic clusters, etc. from Banks and State Government, will enable inclusive development as well as expansion of agri-credit led rural investment. 
Surender Rana, Chief General Manager, State Bank of India speaking on the occasion appreciated the efforts of NABARD in bringing out the valuable document and giving new dimensions to Agriculture Financing.
The Chief Minister also unveiled a booklet containing the Success Stories of PACS from Gujarat that have benefitted from "PACS as MSC" scheme of NABARD on this occasion.