IIMA organises a one-of-its-kind leadership programme for visually challenged women professionals
The programme aims to equip the women professionals with skills to help their transition into senior-level roles in the future.
Programme to include sessions on leadership skills, self- growth, financial and technology literacy, etc.
Participants hail from Delhi, Gujarat, Madhya Pradesh Odisha, and Rajasthan
Supported by Lal PathLabs Foundationthrough the IIMA Endowment Fund
BILKULONLINE
Ahmedabad, April 25:  In what can be called a one-of-its-kind initiative, the Indian Institute of Management Ahmedabad (IIMA), a premier global management institute, is conducting a leadership training workshop for visually challenged women professionals. Titled Leadership and Strategic Thinking for Social Sector, the programme is being organised from April 25-27, 2023 at the IIMA campus.
The programme – conceptualized by Professor Rajesh Chandwani, IIMA faculty member and the Dr Lal PathLabs Chair in Healthcare at IIMA – aims at equipping the participants with knowledge and skills that can help in grooming them to take on leadership roles. Eleven other faculty members from IIMA and the Blind People's Association (BPA) with expertise in different academic areas have come together to take sessions on a wide range of subjects for the participants.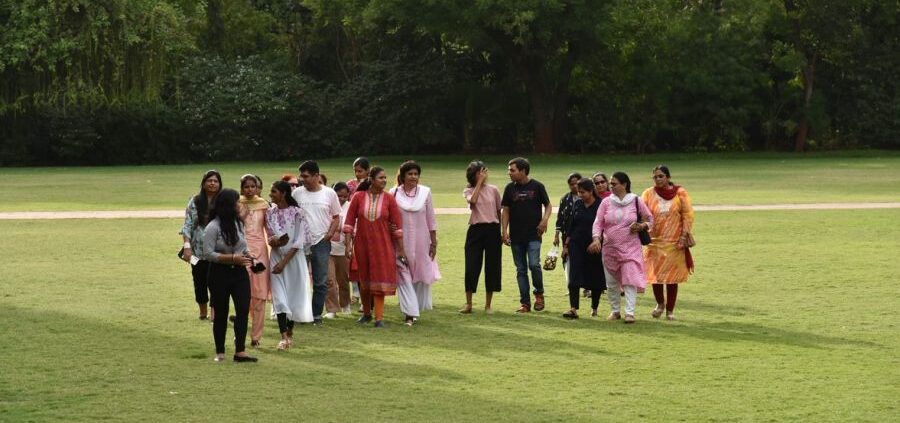 The programme has taken shape with the joint support of Lal PathLabs Foundation in association with the IIMA Endowment Fund. Lal PathLabs Foundation has been focussing on social development through its CSR activities, skilling and creating awareness activities. By setting up the Dr Lal PathLabs Chair in Healthcare, the pioneer in the diagnostic industry intends to complement the Institute's existing research being done by its faculty members in the healthcare and allied sectors.
The programme commenced with an opening session attended by the participants, Professor Bharat Bhasker, Director, IIMA; Dr. Om Manchanda, IIMA alumnus and Managing Director, Dr Lal PathLabs; Mr. Bhushan Punani, General Secretary, BPA;  Tarun Vashishth, PhD student at IIMA; Chhavi Moodgal, CEO, IIMA Endowment Fund and Professor Rajesh Chandwani, Faculty Chair, Programme on Leadership and Strategic Thinking for Social Sector, along with other faculty members.  
Speaking at the opening session of the special training programme, Professor Bharat Bhasker, Director, IIMA said, "IIMA has taken an impressive lead in addressing social issues, particularly around inclusivity and disability. Through this programme, we are taking a crucial step to understand and mitigate the challenges faced by visually challenged women who aspire to take on leadership positions, an area where there is a significant under-representation. Overall, this initiative highlights IIMA's progressive vision and we are confident that the programme will go a long way in helping us contribute significantly to the creation of a more inclusive and equitable society."
Speaking about the objective and details of the programme, Professor Rajesh Chandwani said, "This programme stems from our observations from a one-day interactive workshop we had conducted last year with a group of visually challenged women. Based on our understanding, we have created this course, where we will not only help the participants get an in-depth view of the diverse aspects of leadership in the social sector but we will also learn ways to enhance our pedagogical innovation and towards building inclusive classrooms. We plan to engage in meaningful interactions with the participants during the program and develop policy briefs on these aspects."
Leadership Training Programme:
The twenty-five participants in the programme hail from various organisations in Delhi, Gujarat, Odisha, Madhya Pradesh, and Rajasthan. During the programme, participants will be taught concepts and trends in subjects ranging from Strategic Thinking for the Social Sector to Governance and Compliance Issues in NGOs and Financial Literacy: Issues Challenges and Opportunities to Managing Negotiations to Leading Self in the Social Sector and more. At the end of the training programme, the participants will have a greater understanding of various functions and aspects of management, including self-growth, which will equip them with the knowledge and skills to gradually move up the growth ladder in their organisations or pursue senior -level positions in the social sector.
Keeping in mind the special requirements of the participants, IIMA faculty members are making modifications in the course content and teaching that will keep the teaching-learning process simple, student-friendly, and effective.
The Dr Lal PathLabs Chair in Healthcare was instituted by Lal PathLabs Foundation in 2022. The core objective of the Chair is to carry out cutting-edge research that can further strengthen the collaboration between academia and industry, optimize the forward and backward linkages in the healthcare ecosystem and promote thought leadership in this domain.