Ahmedabad hosts yearly Oil & Gas Conservation fortnight's inaugural event SAKSHAM-2023
          Conserve Energy and Water for future generations and life : Min Mukesh Patel      
BILKULONLINE
Ahmedabad, April 27: How to conserve energy and how to work towards PM Modi's dream of 'net zero carbon emissions by 2070′  were largely the take from the inaugural function of the oil & Gas Conservation drive which kick started from Ahmedabad on Thursday.
The Oil & Gas Conservation drive is being observed from 24th April till May 8th across India. Inaugural function at Ahmedabad saw besides the minister and mayor of city, senior officers and students of schools. It was organised by the  Oil Industry comprising of Indian Oil Corporation Ltd., Hindustan Petroleum Corporation Ltd., Bharat Petroleum Corporation Ltd., & GAIL (India) Ltd. in association with PCRA (Petroleum Conservation & Research Association).
सक्षम – संरक्षण क्षमता महोत्सव – 2023, the Oil & Gas Conservation drive 2020 was inaugurated on 27th Apr' 23 at Pandit Dindayal Upadhyay Auditorium, Ahmedabad by Chief Guest  Mukesh Zinabhai Patel and the Guest of Honor was Kiritkumar J Parmar, Mayor-Ahmedabad Municipal Corporation, M Annadurai, State Level coordinator, Oil Industry Gujarat and Executive Director & State Head (Gujarat), IOCL & Oil Industry Officials, Dealers, Distributors .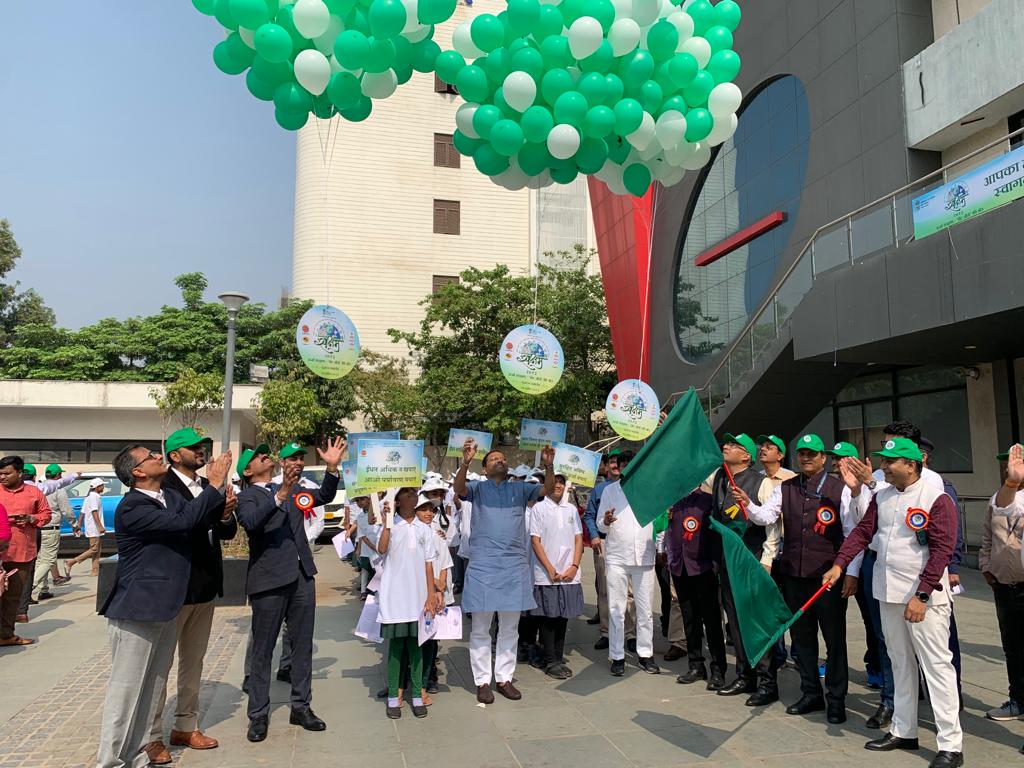 M Annadurai, Executive Director, Indian Oil Corporation Limited, Gujarat and  Gujarat State Level Co-coordinator, Oil Industry in his welcome address stressed upon the judicious consumption of petroleum products & need to conserve it for future generations and importance of environment protection. He said as many as 6,000 programmes big and small were organised with the stake holders in mind and dealers in support to promote awareness about energy conservation and environment friendly practices. a rally on river front of Ahmedabad was also a memorable event in this connection, commented Annadurai.
He informed that during the SAKSHAM-2023 campaign more than three thousand activities will be conducted in Gujarat for promoting Green and Clean energy with aim of achieving Net Zero Emissions. Few notable events will be like organizing Seminars, Panel Discussion, EV Rally, CNG Rally, Walkathons & Cyclothons.
Mukeshbhai Zinabhai Patel, in his address  stressed on conservation of Petroleum products & applauded the oil industries for their planning to conduct various activities in the state of Gujarat. He assured his government's commitment for optimal use of petroleum products and also talked about the various initiatives undertaken for the development of renewable energy like solar & wind.
Mukeshbhai appealed the young students to adapt the habit of conserving energy in all its forms as and when they see it wasting and not in use. He also pointed out that the future war will be on drinking water. Therefore we need to conserve rain water and save it to the optimum from now itself. He lamented that the cities across the world were slowly becoming concrete jungles from real green living areas and hence we are experiencing the wrath of it and seeing rain falling in hot summer days and so on.  
The current  year theme of SAKSHAM-23 is "Energy Conservation towards Net Zero Emission"  was aiming at requesting and drawing attention of the end user of the fuel and energy sources  to take part in this conservation and to give the benefits to the future generation also.
Kiritkumar J Parmar's function in his address informed about  various initiatives taken by Ahmedabad Municipal Corporation towards achieving Net Zero Emissions in Gujarat.
A rally of School Children was flagged off by the Chief Guest & Guest of Honor to propagate the message of Oil & Gas conservation drive SAKSHAM-2023.