148 ambitious professionals embark on their transformational PGPX journey at IIMA
Diversity in Class continues to promote peer learning and an interdisciplinary way of thinking
~Increase in professionals with international work experience
~Professionals from Government and Defence have a visible presence
~Women students enrich the melting pot of diversity in the Class
~Class comprises professionals who represent more than 30 sectors
BILKULONLINE
Ahmedabad, April 27: The Indian Institute of Management Ahmedabad (IIMA), a premier global management institution, recently welcomed 148 students to the Class of 2024 of its Post Graduate Programme in Management for Executives (MBA PGPX). In its 18th year, the One Year Full Time MBA PGPX programme is tailor-made to provide experienced professionals with world-class management education that enables them to fast track their careers.
The Class was welcomed by Professor Bharat Bhasker, Director, IIMA; Professor Pradyumana Khokle, Dean Programmes and Professor Viswanath Pingali, Chairperson, MBA PGPX at IIMA.
Sharing his views with the students, Professor Bharat Bhasker said, "PGPX is a transformative journey that will enrich you professionally as well as guide your thought processes beyond classroom learning. At IIMA, we strive to develop responsible and sensitive business leaders who place the society at the core of their decision-making. A combination of world-class curriculum, taught by a great faculty pool, learning current best practices and a collaborative learning environment makes PGPX one of the most sought-after management programmes in the world. I am confident that with your PGPX experience, you will emerge as new age leaders that the world needs today."
The Class of 2024 of PGPX is a group of high-performers drawn from diverse backgrounds. From defence personnel to journalists and engineers to government officials, this cohort of 148 students brings together experienced professionals from diverse walks of life to be part of a programme that is globally recognised for the quality of education and enhancing the growth of its students.  Today as many as 1, 574 of its alumni are making their mark in the industry and as entrepreneurs in India and abroad.
Sharing details of the class profile, Chairperson Professor Viswanath Pingali, said, "The quality and profile of the IIMA PGPX students is comparable with the top business schools across the world. A selection process that considers academic rigour, leadership potential and diversity combined with scholarships to encourage the meritorious and deserving professionals allow us to get the best of students year on year. As the Chairperson, I am extremely confident that the Class of 2024 of IIMA PGPX will make a mark for themselves, just like their predecessors."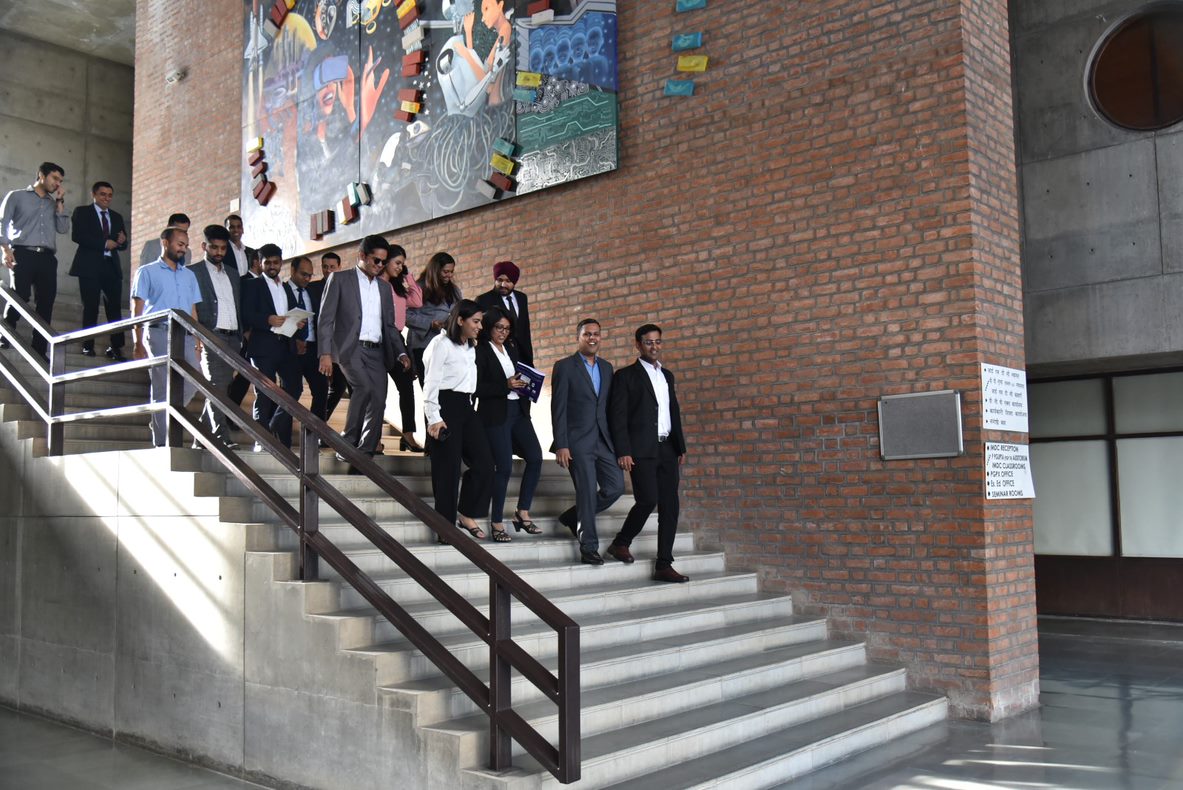 Professionals with international work experience- bringing in a global perspective
Around 36 per cent of the class comprises ­professionals who come with international work and study experience of about four to 15 years in sectors including banking and financial services, manufacturing and engineering, defence and security, IT, energy and utilities, administrative services consulting, shipping and transportation and social services. They have worked in the USA and European countries. Additionally, 4.73 per cent of the batch has students who have been residing outside India. About 9.28 per cent of the students have studied at international institutes.  In an increasingly globalised business world, this group brings in invaluable   international insights, best practices and   understanding of cultural and business nuances that can help others to hone their learning of the borderless real-world.
Professionals from the Government and Defence – enriching classroom discussions
The 2024 cohort includes a good representation of professionals from government bodies and administrative departments, such as Ministry of Home Affairs, NITI Aayog, Comptroller & Auditor General of India, Ministry of Railways, Government of Haryana; and defence forces such as, Indian Navy, Indian Army as well as the CRPF.   These professionals bring a different perspective in areas such as critical decision making and crisis managements, which adds to the peer learning in the class.
Women Professionals – adding to the diversity of thought process and decision making
Women students of the PGPX, Class of 2024 come with work experience ranging from 6.5 years to 8.5 years. Before joining the programme, they were holding roles such as Regional Manager – Uniformed Forces, Consultant, Assistant Registrar, Research Engineer, Continuous Improvement Manager, Senior Analyst, Entrepreneur, and come from sectors that include IT and ITeS , BFSI, Manufacturing, Consulting,  Public sector, Retail and e- commerce, Government bodies, Social sector, and FMCG. The others come with domestic as well as international work experience.  Besides their professional achievements, a couple of the women students are also hands on mothers who are harmoniously balancing their motherly duties along with their academic pursuits, which many women students in the past have described as one of the toughest yet equally fulfilling experiences during their IIMA PGPX journey.  Throughout the years, women PGPX students have brought in innovative ideas and practices enriching not only classroom discussions but also activities outside of it.
PGPX 2023-24: Profile of Students
| | |
| --- | --- |
| Parameter | Average |
| GMAT | 693 |
| GRE | 323 |
| Average work experience | 7.7 years |
| International work experience | 4 to 15 years |
| Average age | 30.75 years |
| Total Number of Students | 148 |
Other students in the class hail from sectors such as Healthcare, Media and Entertainment, FMCG, Academic and Education, Advertising / Communication / Media / Entertainment, Aerospace and Aviation, Government Enterprises and Public Sector Undertaking, Infrastructure and Construction, Pharma / Bio-Tech / Healthcare / Hospitals, Retail / Ecommerce, Shipping / Transportation / Logistics, Telecom, Travel and Hospitality.
A majority of the students in this class come from cities including Delhi, Mumbai, Hyderabad, Chennai, Bangalore, Kolkata, Lucknow, Ahmedabad, etc.
As a prelude the students of the PGPX, Class of 2024 are attending lectures, exploring the campus and adapting to the rigour of the PGPX programme.