India's first electric motorcycle manufacturer TORK Motors  expands footprint in Gujarat with Ahmedabad showroom
Already sold 1,000 units, Tork Motors is focussed to make KRATOS-R a household name for Indians
BILKULONLINE
By Rafat Quadri
Ahmedabad, June 21: 
This is brand's third centre in the state, post introducing the Surat and Rajkot outlets in last few months

The 3S facility is located at Navrangpura area and will cater to TORK Motors' customers in and around the city for sales and after sales requirements 
Ahmedabad, June 21: TORK Motors, India's first electric motorcycle manufacturer, has inaugurated its new Experience Zone in Ahmedabad, Gujarat. Located at Swapnil 5 Complex, Near Commerce College road, Navrangpura area, this 3S facility will be home to the brand's KRATOS-R motorcycle and will offer sales and after sales services to consumers in the region.
This new Experience Zone marks the company's third touchpoint in the state of Gujarat, apart from Surat and Rajkot centres. Customers will be able to get up-close with the KRATOS-R and experience the capabilities of India's first electric motorcycle through comprehensive test rides.
Speaking at the inauguration, Kapil Shelke, Founder & CEO, TORK Motors, said, "We are thrilled to make a foray into Ahmedabad with our new Experience Zone. The region's growing demand for EVs along with a substantial consumer base with a rising interest in sustainable and clean mobility solutions makes this city highly significant for us. This demand, combined with the government's initiatives and incentives, also makes Gujarat an important market for TORK Motors. We are confident that this Experience Zone will further expand the KRATOS-R community and pave the path for a greener future."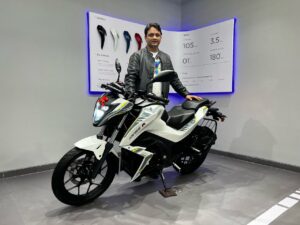 Kapil Shelke, the founder of TORK Motors has leveraged his racing experience in making the brand India's top electric vehicle manufacturer. TORK Motors has filed more than 50 patents and designs under IPR (Intellectual Property Rights bolstering its R&D and cutting-edge technology since its inception. 
TORK Motors launched its flagship motorcycle KRATOS-R in the year 2022. Since its launch, the company has received an overwhelming response to their indigenously developed electric motorcycles through numerous bookings. Earlier this year at the Auto Expo, the brand introduced the refreshed KRATOS-R, with significant changes. The motorcycle now boasts a completely black motor and battery pack along with stylish decals for enhanced styling and comes with a fast charging port. The motorcycle is available in five trendy colours, including the new Jet black with grey hues. With EMI options starting as low as INR 2,999/-* a month, TORK Motors has collaborated with leading financial organizations to make the KRATOS-R accessible to all.
Riding a motorcycle involves handling a curious collection of various elements like noise, danger, speed, balance, physical skill, and mechanics. It is not surprising then that some people are obsessed with motorcycles, wind blowing across their faces, following the road, feeling free and wild. You can instantly recognize a motorcyclist because of his/her signature leather jacket, swanky helmet, leather gloves, and of course, his/her beautiful machine.
Existing customers can also upgrade their current motorcycle by paying a differential amount. Consumers can book their KRATOS-R online by visiting the company's official website at www.booking.torkmotors.com     
TORK Motors is India's first electric motorcycle manufacturer, registered in the year 2010. The brand has a rich and glorious legacy of racing at the 'Isle of Man'. 
(Rafat Quadri can be contacted at editorbilkul@gmail.com)