Senco Gold Limited comes out with IPO of ₹ 405 Cr- opens on 4th & closes on 6th July
Trusted for quality, designs and pricing Senco Gold enjoys modern outlook in its management with generation's credible background continuity
BILKULONLINE
By Rafat Quadri
Ahmedabad, July 1: Kolkatta based gold and diamond jewelry retailer Senco Gold's IPO  comprises of the fresh issue of equity shares aggregating up to ₹270 crore and an offer for sale (OFS) of equity shares up to ₹135 crore by selling shareholder – SAIF Partners India IV Ltd.
The company proposes to utilise ₹196 crore of net proceeds from the fresh issue towards funding working capital requirements and rest towards general corporate purposes. 
Senco Gold Ltd's ₹405 crore initial public offer (IPO) is set to open on July 4, 2023. The three-day IPO will close on July 6, and the bidding for anchor investors will open on July 3, according to information available in the red herring prospectus (RHP).
Senco's fund based working capital facilities have been assigned a rating of "ICRA A" with a stable outlook for long term facilities and a rating of "ICRA A2+" for short term facilities and its fixed deposit program has been assigned a rating of "ICRA A" with a stable outlook by ICRA Limited.

One of its kinds of Jewelry Company with a pan India existence Senco Gold is known for its innovative practices in business.
There are many 'firsts' that are attributed to the company which is carrying the legacy of the business for the last five decades. When the Covid-19 disturbed and toppled the careers and businesses of the world Senco chose to take care of its staff and craftsmen by extending all possible help even as they slashed their marketing budget.  After it, the following years saw a boom in their business.
Ranjana Sen is the chairperson,  Suvanker Sen is the dynamic MD and CEO of the Senco Gold. Marketing and design sections are being taken care of by Joita Sen the director. Bhasker Sen, Vivek Kumar Mathur and others comprise the board while its CFO is Sanjay Banka.
 Representing the fourth generation into this business, Suvankar has introduced new concepts and practices to make this company big. He has introduced the company affairs transparent and handy with the use of modern gadgets and systems. Truly a tech savvy (an ITM and St Xavier's product) Sen  has  used his education in economics and management . He has brought about the company management on cloud, started an app of the company and tried to reach out to its customer base easily and efficiently.
Senco Gold has pioneered to introduce 'franchisee' concept for their business which is yielding high results for the company and introduced it to the newer regions of India.
Today, Senco Gold is standing on position number 2 (two) as the most trusted jewellery brand by TRA's Brand Trust Report 2017 to 2nd most trusted jewellery brand by TRA's Brand Trust Report 2020.
Senco has 136 showrooms, which have a total area of approximately 409,882 sq. ft., in 96 cities and towns over 13 states across India.
The Company primarily sells gold and diamond jewellery and also sell jewellery made of silver, platinum and precious and semi-precious stones and other metals. It offers a diverse jewellery collection, which includes gold jewellery, diamond jewellery, platinum jewellery and studded jewellery of various forms, across various price points (ranging from approximately ₹ 2,000 to approximately ₹ 500,000) to maximise the customer base.
Senco has posted consistent revenue growth, profitability and return on equity from FY21 to FY23. Light weight gold jewellery is the USP of the company. Jewellery designs, running into thousands are made available digitally also. Craftsmanship of Kolkatta's artisans can be witnessed when you look at the excellent range of jewellery of gold and diamond being sold by Senco Gold.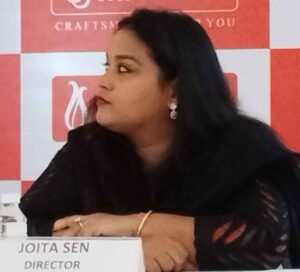 Its other offerings also include costume jewellery, gold and silver coins and utensils made of silver. Its products are sold under the "Senco Gold & Diamonds" tradename, through multiple channels, including the 75 Company Operated Showrooms and 65 Franchisee Showrooms and various online platforms, including the website www.sencogoldanddiamonds.com.
Machine made light weight jewelry in gold and diamonds is the USP of the company. It is manufactured at its manufacturing facility based on designs prepared by its inhouse designers and also sourced from third partner manufacturing vendors.
Senco's revenue from operations grew from ₹2,660 crore as of March 31 2021 to ₹4,077 crore as of March 31 2023.  
The company's revenue from operations grew at a CAGR of around 24 per cent from ₹2,660 crore as of March 31 2021 to ₹4,077 crore as of March 31 2023.  IIFL Securities, Ambit and SBI Capital Markets are the book running lead managers to the IPO. The equity shares of the company are proposed to be listed on BSE and NSE.
(Rafat Quadri can be contacted at editorbilkul@gmail.com)