Reliance Foundation's Jyothi Yarraji wins historic Gold at Asian Athletics Championships
The hurdler became the 1st Indian ever to win Gold in the 100m hurdles event
 New Delhi, July 14: Reliance Foundation's Jyothi Yarraji scripted history in style at the Asian Athletics Championships by becoming the 1st Indian ever to win gold in the 100m hurdles event at the continental championships in Bangkok, Thailand on Thursday.
In wet and slippery conditions due to heavy rain, Jyothi clocked a time of 13.09s in the final to finish on top in a strong field. Japan's Asuka Terada (13.13s) and Masumi Aoki (13.26s) won silver and bronze respectively.
 In 22 previous editions of the tournament, the only Indians to medal in the 100m hurdles event were Anuradha Biswal (bronze in 2000) and Jayapal Hemasree (bronze in 2013).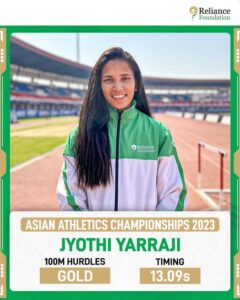 Jyothi was the fastest in the heats too, clocking a timing of 12.98s to top Heat 1 and advance to the final. She fell just short of eclipsing the meet record, which stands at 12.97s.
The only Indian woman in history to run a time below 13s in this event, Jyothi pipped her Japanese opponents in a photo finish. She had come into the competition as the favourite, having been the fastest woman in Asia this year.
Her recent form has also been sublime. She was named the Best Female Athlete at the National Inter-State Senior Athletics Championships, where she won two Golds and one silver.
She will next be in action in the 200m event at the Asian Athletics Championships.
Earlier in the competition, Reliance Foundation's Gulveer Singh had finished fifth in the 10000m event on the opening day of the competition after finishing with a time of 29:53.69s. He will also be in action in the 5000m event later at the Championships.